Malawi president, Dr. Lazarus Chakwera today addressed the Common Market for Eastern and Southern Africa (COMESA) summit underway in Lusaka, Zambia.
"I have used my maiden COMESA speech, delivered at the ongoing 22nd summit of Heads of State and Government, to call for expedition of regional integration as a path to sustainable development for member states as we build back stronger from a range of social, economic and natural inconveniences,"
"Using Malawi as a handy case study, I highlighted the combination of setbacks over the past six years that have rendered serious social and economic damage on livelihoods. These being Cyclone Idai, Tropical Storms Ana and Gombe, Cyclone Freddy, droughts, the war in Eastern Europe, and outbreaks such as Covid-19 and cholera," Chakwera wrote on his Facebook page.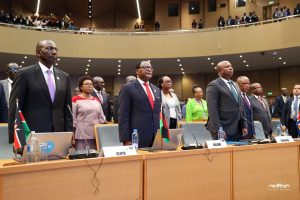 The Malawi leader says he has also put to light the need for quick integration to deal away with underhand forces that are trying to manipulate the Africa Continental Free Trade Area to their advantage rather than ours.
He adds : "We must remain united to lift our people out of all forms of poverty. I have assured the gathering that Malawi will build stronger alliances to advance the agenda of integration and gain through positive outcomes in trade, investment and general well-being of our people. Only integration will help us meet our development aspirations within the COMESA framework."
The history of COMESA began in December 1994 when it was formed to replace the former Preferential Trade Area (PTA) which had existed from the earlier days of 1981. COMESA (as defined by its Treaty) was established 'as an organisation of free independent sovereign states which have agreed to co-operate in developing their natural and human resources for the good of all their people' and as such it has a wide-ranging series of objectives which necessarily include in its priorities the promotion of peace and security in the region.
COMESA Member States are: Burundi, Comoros, Democratic Republic of Congo, Djibouti, Egypt, Eritrea, Eswatini, Ethiopia, Kenya, Libya, Madagascar, Malawi, Mauritius, Rwanda, Seychelles, Somalia, Sudan, Tunisia, Uganda, Zambia and Zimbabwe.