Child marriage survivor, Tionge Mtambo says very soon she will register her own organization, Girl Rise Initiative Malawi to fulfill her longtime dream of uplifting lives for girls rescued from child marriages, early marriages and pregnancies.
Mtambo says her plans of registering Girl Rise Initiative Malawi has been influenced by COVID-19 pandemic which has seen many girl child in Malawi entering into early marriages, child marriages and pregnancies, a barrier not to go back to school describing it as a national crisis.
Recently, Tionge was in the news, having asked President Dr. Lazarus Chakwera to establish a presidential Taskforce Committee to look into the critical issues of early and child marriages and pregnancies, the same as COVID-19 pandemic, reporting to the Head of State.
She is at Teams Advancing in Women and Agriculture (TAWINA) working as a Field Assistant Officer, meeting teen mothers and child marriage survivors, inspiring and encouraging them not to give up in life, teaches girls how to take care of themselves from COVID-19 pandemic and also handles cases of sexual abuse in the area of Inkosi Mkukula in Dowa district.
Mtambo came to Lilongwe from Chitipa where she was teaching as a qualified Government teacher after Government announced closure of schools in March, 2020 due to COVID-19 pandemic and has no interest of going back to school as a teacher.
She said after escaping in the middle of the night from a forced marriage to a -45 year old prominent businessman to become her third wife in 2011, Mzuzu Social Welfare Office linked her with Girls Empowerment Network (GENET), went to stay in the house of the Project Officer, Chikondi Njombwa of Kasungu, continued her school and in 2013, she passed MSCE with 32 points at Chitipa Secondary School, night.
In 2014, she joined Karonga Teachers Training College as an Initial Primary Teacher (IPTE) and Open Distance Learning (ODL) and after graduation, she was posted to teach in the border with Tanzania, Kameme Ilengo primary school, a school which has no girl child from standardd 6 -8 due, all girls were married.
Mtambo was posted to Chitipa boma where she enrolled with St John DMI University for a Diploma in Arts majoring in Geography and Literature, she has been facilitating school debates of encouraging girls to be school at Nazato, Ilengo and Nayambo primary schools.
She said while facilitating these debates and following her history of rescued from child marriage, Teams Advancing in Women and Agriculture (TAWINA) encouraged her to travel to Lumbadzi in Dowa as a Field Assistant Officer looking into the cases of child marriages and ensuring that abused girls get justice and inspiring girls as a role model.
"My parents feel ashamed of what they did to me in 2011, today, I am there bread winner and they feel proud of me. She returned the four cows which were already in my grandparents kraal," said Tionge Mtambo in a happy mood.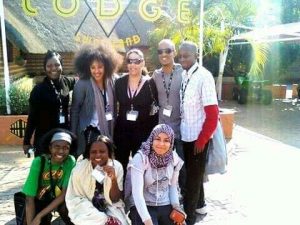 She is all thankful to Teams Advancing in Women and Agriculture (TAWINA) for mentoring and giving her courage of registering her own organization, Girl Rise Initiative Malawi saying she has already secured an office of her organization in Chitipa.