A medical camp organised by Islamic Health Association of Malawi (IHAM) in conjunction with Physicians across Continents (PAC) through Ministry of Health to offer free surgical services is underway at Nkhotakota district hospital.
According to IHAM Executive Secretary Hajji Daitoni, the specialist doctors from four countries are carrying out surgeries in endocrinology (goitre),urology, and pediatrics to less previleged Malawians in the district.
"We have received foreign specialist doctors from Palestine, Jordan, Saudi Arabia and Sudan," Daitoni told Malawi Muslim Website.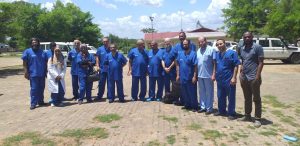 He said the medical camp started a bit late because of a challenge of approval from health authorities.
"We had a challenge of getting an approval from the Malawi Medical Council due to their documents not being in order. With the help of few good hearted people we got the approval and they started work today," he said.
Daitoni said the turn out is positive and so far some surgeries have been done successfully.
The medical camp will end on 14th December, 2019.
IHAM is an umbrella body for all Islamic organizations that provide health services to Malawians both in rural and urban areas. The organisation was established in 2011.