Legendary striker , Karima Benzema has bid farewell to Real Madrid football club. The forward, 35, has been heavily linked this week with a lucrative move to Saudi Arabia.
In a statement, Benzema has thanked everyone who made his stay in Madrid memorable .
"Madrid fans, after so many years here, the time has come to say goodbye to the club that has become my home, Real Madrid.
I had the privilege to wear this legendary shirt and represent this iconic club. I am very grateful
to my president, my teammates, the coaches, the staff and everyone who has participated in my career in Real Madrid. Your unconditional support and trust in me has been crucial to my development as a player and as a man," he says.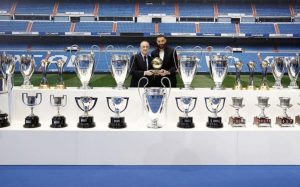 Benzema adds : "Although I leave Real Madrid, I will always carry a part of this club in my heart. Real Madrid will always be an integral part of my life and I will continue to follow the successes of this extraordinary team. Thank you all for the love and support you have given me over the years. Saying goodbye with a deep feeling of gratitude and an emotional goodbye."
The French forward joined Madrid in 2009 from Ligue 1 side Lyon. Benzema established himself as a key player alongside Cristiano Ronaldo and Gareth Bale in the vaunted "BBC" attacking trident, before developing into the team's leader when the Portuguese striker left in 2018.
Benzema has lifted a record 25 trophies with Madrid, including five Champions Leagues, four La Liga titles and three Copa del Rey titles, and is the current holder of the Ballon d'Or for the world's best player. He is Real Madrid's second top scorer of all-time, with 353 goals for Madrid, behind only Ronaldo on 450.