Wednesday, 29th March, 2023, Malawi Relief Fund UK through Sister Khadijah Hamdan donated Ramadhan packs to over 250 Muslims in Nkhotakota district.
Sister Hamdan told Muslim Media Agency that it is a culture for the organization through her to support Muslims with Ramadhan packs during the holy month every year.
"Malawi Relief Fund UK conducts the initiative through me every year. We know that most Muslims struggle to find Iftar and Suhr hence the immplementing the initiative annually," she told Muslim Media Agency.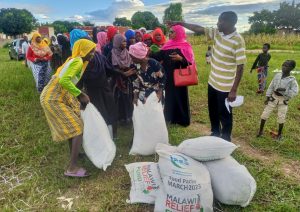 One of the beneficiaries, Sister Fatima Mayisala commended the organization for a timely donation.
Sister Mayisala said with the current economic hardships hitting many Malawians, the pack will help them to observe fasting without challanges.
"Most of us lack money to buy food items such as rice, maize flour, cooking oil and sugar for preparing Iftar and Suhr. The donation is timely and may Allah reward the donors and our dear sister, Khadijah Hamdam," she said.
The organization donated the items to Muslims at Mkaika Trading, Centre, Chikwawe Village, Ndondongwe Village, Chisema Village, Mpamantha Village , Chisoti Village and M'gomba Village in the lakeshore district.
The packs contain 20 kilograms of maize flour, 3 kilograms of sugar, 3 kilograms of beans, 3 kilograms of rice, 2 kilograms of iodised salt and 1 litre of cooking oil among others.