Tuesday, 28th March, 2023, Minister of Energy, Honorable Ibrahim Matola Matola hosted officials from the Association of Power Utilities in Africa (APUA) at his office in Malawi's capital, Lilongwe.
According to Matola, the officials are in Malawi for preparatory meetings with Electricity Generation Company (Malawi) Limited (EGENCO) officials ahead of APUA's Annual General Meeting (AGM).
"Today, 28th March 2023, I welcomed a team from the Association of Power Utilities in Africa (APUA) secretariat comprising the Director General, Mr. TELLA Abel Didier and Director of Communication and Corporate Affairs, Mr Jeannot Koudebi, who are in the country for preparatory meetings with EGENCO officials," Matola wrote on his Facebook page.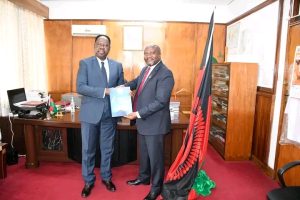 According to Matola, Malawi, through EGENCO, will host this year's Annual general meeting of the APUA in June at the Bingu International Convention Centre (BICC) in Lilongwe.
The Association of Power Utilities of Africa (APUA) is an international non-governmental association formed in 1970 with its headquarters in Abidjan, Ivory Coast.
Formerly known as the Union of Producers, Transporters and Distributors of Electrical Power on Africa (UPDEA), the change of denomination occurred in 2012. APUA is comprised of 56 active members in 46 African countries, 20 affiliate members and some associate and observer members in Africa and Europe.
APUA's purpose is to promote the development and integration of the African electrical sector, the dissemination of best practices of management, the exchange of experience and know-how, mutualised training of staff, as well as joint exploitation of the energy resources based on a 'win-win' approach for all members.