Malawi's Minister of Energy, Ibrahim Matola has asked African engineers to lead the continent in fulfilling the Sustainable Development Goal (SDG) 7.
SDG 7 is about ensuring access to clean and affordable energy, which is key to the development of agriculture, business, communications, education, healthcare and transportation.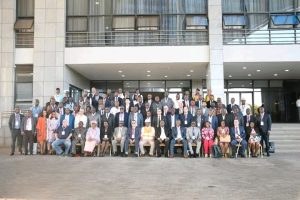 Matola made the remarks yesterday during the closing ceremony of the 57th Annual General Meetings of APUA held from 3rd June- 9th June, 2023 at the Bingu International Conference Centre (BICC) in Lilongwe.
"With over 160 participants from 25 countries across Africa, Europe, the Middle East, and Asia among others; this gathering had brought together some of the brightest minds working towards ensuring that African people can access clean and sustainable energy by 2030,"
"During my closing remarks, I emphasized engineers' critical role in achieving this goal and reminded them that they hold the power to transform Africa into a beacon of hope for sustainable energy solutions," Matola wrote on his official Facebook page.
According to the Energy Minister, the APUA Annual Meetings play an essential role in driving these efforts forward and ensuring that Africa achieves vision for clean energy on this beautiful continent.
"As such, I urged all participants to return home inspired and motivated to implement the resolutions made during these meetings – reminding them that their contributions could shape Africa's future trajectory significantly," he said.
Matola added :"In conclusion, as a fitting tribute to Michael Jackson's legacy as a champion of humanitarian causes worldwide; I requested our DJ to play his iconic song 'Heal The World.' This powerful melody encapsulates perfectly how every person has an important role to play in making our world more equitable and just for all its inhabitants – regardless of where they live or what work they do."
The event was hosted by the Electricity Generating Company (Malawi) Limited (EGENCO) on behalf of the Malawi Government.
The Association of Power Utilities of Africa (APUA), formerly known as the Union of Producers,Transporters and Distributors of Electrical Energy in Africa (UPDEA),was created in 1970 with its headquarters in Abidjan, in Côte d'Ivoire. Today the association has 57 active members,as well as affiliate, associate and observer members.