In this week's Malawi Muslim Website Special Story, Shaheedah Silleni Mwale is talking to Bright Malenga .
Shaheedah is a student rocking in Nikaab at the Malawi Polytechnic.
This bright girl from Mangochi district is currently pursuing Bachelor of Science in Electronics and Computer Engineering.
Bright : Who is Shaheedah?
Shaheedah: My name is Shaheedah Silleni Mwale and I was born on 13th March 1999.
I am based in Lilongwe and my home district is Mangochi.I am a second born in a family of nine children, three girls and six boys.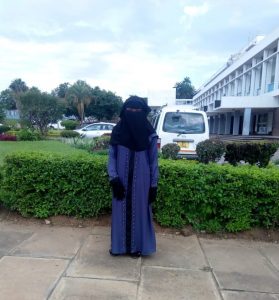 Bright: How have you grown up? You seem to be coming from a rich family.
Shaheedah: I come from a middle class family where all my parents do business. I am the first to go college followed by my sister who is studying at Natural Resource College (NRC).
My life story is not much long but I have passed through both good and worse times reaching today. It hasn't been easy but I strived to push hard to be at college. There was a time I would leave school due to financial problems but with the little my parents sourced I succeeded. I also had to work just after I was selected to College as a clerk at Baker's pride in Blantyre and also as a secretary at a certain NGO in Mangochi to find my upkeep at school.
Fortunately, later on I applied for sponsorship of which I succeeded and am now under Bursary Alhamdulillah.
Bright : School us on your educational background.
Shaheedah: My educational background is that I did my primary school at Poly Private School and Wisdom Centre Parish School in Lilongwe and did my secondary school at St Michaels Girls secondary Mission School in Mangochi where I sat for my Malawi School Certificate of Education (MSCE) Examinations in 2015 and scored 16 points, Alhamdulillah.
I am currently studying Bachelor of Science in Electronics and Computer Engineering at University of Malawi, The polytechnic and I am going in my Third year, Insha Allah.
I am also studying Islamic studies on Islamic Online University and I am in my first year now.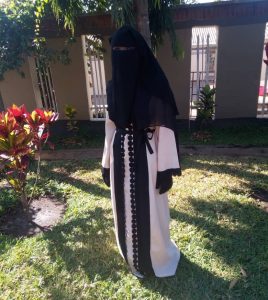 Bright: What is your program all about?
Shaheedah : My program Bachelor of Science in Electronics and Computer Engineering does more on designing things to simply life using computers and electrical appliances.
Bright: what do you do after finishing all the academic assignments?
Shaheedah: What I usually do after classes is that I make sure I make up my prayers, rest for sometime ,do some business, cook and attending Islamic gatherings.
Apart from school am doing business, I do online business and am also running a restaurant from home plus keeping local chickens.
Bright: Some people assume that science programs are for men only, what can you tell them? How do you overcome the stereotype?
Shaheedah : With that stereotype, I try to work hard as much as I can and I don't hesitate to ask for help from the men as I believe in equity and not equality. The guys may work in it better but women can too according to their level if they put their hearts on it.
Bright : What is your say to fellow Muslim girls who may wish to take up the same path?
Shaheedah: To my fellow Muslim ladies, I will say they can do it also but with much hard work than expected.
To all Muslim girls who would like to pursue my career, they need to work extra hard in sciences and put Allah first and never leave Islam aside for it really helps in all angles of life.
To those who wish to do any other programs too they should take that advice and to those who were not selected to UNIMA or their dream college they should accept Qadar ( Allah's will ) and never give up but find ways to get there like applying to small colleges first and later on upgrade as there are many ways to kill a rat. And to those that didn't afford to finish school, it's not end of life they can do some business and succeed too insha Allah and never forget they are Muslims first before anything else plus trusting and pleasing Allah always.
Bright : What are your future plans?
Shaheedah: My future plans are to finish school both at poly and Islamic Online University as I am studying Islamic course and work if I can, do some business and taking good care of my family.
Feedback: malengabright@gmail.com.