Rasheeda Nsamila, the first girl to graduate with distinction in Bachelor of Science in Earth Sciences (Geology) at the first congregation of Malawi University of Science and Technology (MUST) told Muslim girls that it is also possible for them to realise their academic dreams.
Nsamila, who is a Muslim made the remarks during 2019 Sisters Camp organised by Islamic Information Bureau (IIB) under the theme " Relevant skills for the development of Islam and socio-economic growth" at Blantyre Islamic Mission (BIM) in Blantyre.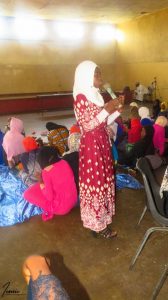 Speaking in an interview with Malawi Muslim Website after the event yesterday , Nsamila said she told the girls that graduating with a distinction degree is possible as long as one follows the clue.
"I told them that I am also a young sister like themselves coming from a humble background. They can make it by making good relationship with Allah, have a goal, make a plan, focus on the plan through having productive friends and managing time properly . If they can follow that, I assured them to graduate with a distinction degree too,"She told Malawi Muslim Website.
Nsamila told the girls that it is possible for Muslims to excel in science programs because the Holy Qur'an is full of scientific facts.
"I was convincing them how simple science is. I told them that everyone is a scientist. The book that we believe in 'Qur'an' is full of scientific facts. This should be an encouragement to us to take science as part of life not as science,"
"I told them that they should be interested in science and apply it in their day to day activities inorder to find it simple and easy," she said.
Nsamila also told the girls about the relevance of her program (Bachelor of Science in Earth Sciences) and how it is applied.
"On daily basis everyone use energy and mineral resources like water for drinking, Irrigation and Industry. We also have issues of environmental contamination and climate change as well as natural hazards,"
"This can be addressed by our knowledge of earth science. For instance, we can find minerals like uranium to satisfy our hunger for energy. Extraction of minerals like copper underneath will ensure the production of high tech devices that helps in economic growth," She told Malawi Muslim Website .
According to Nsamila, Malawi is on East African rift which makes it prone to earthquakes hence the need for earth scientists to explain such geographical situations.
"As such, Malawi needs earth scientists to be more precise to understand dynamic system of the country and locate active faults that produce earthquakes and hence making disaster management efficient," she told Malawi Muslim Website.
The Sisters Camp was attended by primary learners, secondary and university students.