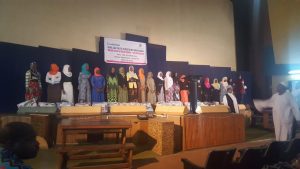 Zamzam Foundation has partnered with Islamic Zakat Fund (IZF) to sponsor 41 female Muslims girls to study nursing program in all Malawi College of Health Science campuses in the country.
Speaking during an interactive meeting with the beneficiaries at Iqra Propagation Centre in Blantyre, Zamzam Foundation Chairperson Sheikh Saad said they selected IZF to manage the scholarship because of its accountability and transparency in managing scholarships for the past 30 years.
"IZF is the leading organisation in educating Malawi since 1986 . It is the most professional , most systematic, most accountable , most transparent and the biggest organisation to produce thousand of students over the last 30 years of its existence,"
"I personally, complement IZF and its leadership particularly its Director, Sheikh Muhammad Uthman for the sacrifices he is doing to make sure that our students in this country go on the right way to be successful," Says Sheikh Saad.
According to the Chairperson, the idea to support only girls came in because it is intriguing to see Muslim girls wearing hijabs in hospital.
"It was my decision to sponsor only sisters for this course because they are a symbol of Islam. They wear hijab everywhere than the brothers and when we see that, we know that Islam is being practiced and contributing in Malawi," he said.
In his remarks, Director of IZF Sheikh Muhammad Uthman urged the students to work hard to sustain the scholarship.
"If you fail, money will be transferred to another student. Don't come with any reason. We need good results to come," he said.
Zamzam Foundation also donated items such as blankets, Islamic literature and bags to the students.