On Saturday, Asian Business Community (ABC) donated medical equipment amounting to Six Hundred Million Malawi Kwacha (600,000,000) to Blantyre DHO, Queen Elizabeth Central Hospital (QECH), Chanco and LMJ clinics to fight against the novel Coronavirus.
Addressing journalists during the donation ceremony at Victoria Gardens in Blantyre, the association's Vice Chairman Dr Parth Patel said the donation is timely because it is being done after Malawi records 102 cases within 48 hours.
"We Asian business community cannot say because of this donation we are safe as a country".
"The pandemic has affected million people so the very little thing we can do is just a little drop in the ocean. It's too early to say we are safe as a country because we still have numbers of positive cases going up and this figure is going to be on because some people are being repatriated, but what we can surely assure you is that we are in a better step than yesterday. We still urge other stakeholders to take part in the fight for this novel Corona virus," Patel said.
He then added to say that, because the Pandemic is new the country cannot measure how many people have been saved but we can only know how many people have died because of the virus.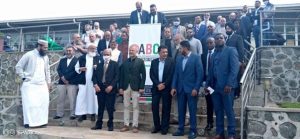 Chairman of Asian Business Community ,Brother Faizal Aboo, said they are Malawians by Asian tribe.
"We Asian community have been in Malawi for many years and we call Malawi our home. So it is of high Paramount to be donating these equipment to this country," he said.
Aboo quoted the Noble Prophet Muhammad (SAW) "charity does not decrease the worth of someone".
"We thank the Commissioner General for Malawi Revenue Authority (MRA) Mr Thom Malata for helping in clearing these equipment fast,"
"We are proud to say that we have saved our mother Malawi and we will continue doing so," he said.
Blantyre District Health Officer (DHO), Dr Gift Kawalazila who was also present at the handover ceremony said, "We are happy to receive this donation from Asian business community. These equipment will assist patients who have been affected by this Pandemic. In this donation there are oxygen concentration Machines which will help the patient in breathing, so we will be able to help the patients."
Asian Business Community has donated Oxygen Machines, Hospital Beds, Fridges, Face Masks among others under "Together We Can," Initiative.