The Citizen for Transformation (CFT) – a movement founded by Timothy Mtambo who is also the Minister of Civic Education and National Unity has donated maize bags and face masks to Muslim women in Mchinji district.
The National Publicity Secretary of CFT Miss Chimwemwe Maunde has confirmed the development in an interview with Malawi Muslim Website.
"Yes, we have donated bags of maize flour and face masks to 100 Muslim women at Mkanda in Mchinji with a financial support from AIM Foundation," she says.
Maunde says CFT will reach all areas with the project.
"Our target is reach out to every district . We have reached out to other before. We also donated to CCAP Livingstonia Synod in Mzuzu, Lusubilo Orphanage in Karonga just to mention a few," Maunde told Malawi Muslim Website.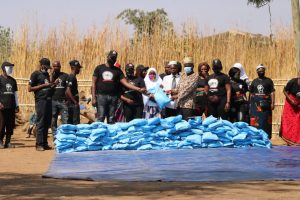 She says shortly CFT will be heading to the southern region with the project.
According to Maunde the initiative will reach over 5000 people.
She says it is important to give people food during this COVID-19 pandemic period.
"We can't encourage people to stay at home because of COVID-19 when they have no food," she told Malawi Muslim Website.
Commander in Chief (CIC) of CFT, Timothy Mtambo who was the Chairperson of Human Rights Defenders Coalition (HRDC) formed the movement earlier this year.