Malawi president ,Dr. Lazarus Chakwera says approximately two months after their Excellencies Dr. Bakili Muluzi and Dr. Joyce Banda joined Cyclone Freddy recovery efforts as goodwill ambassadors, he is happy to note that their significant contribution towards Operation Tigwirane Manja initiative is bearing fruits.
Chakwera made the remarks after meeting the two former presidents today at Sanjika Palace.
"Their Excellencies updated me on the progress they have made from the time they took up this noble task," Chakwera wrote on his official Facebook page.
He adds : " I am also delighted to note that they are advocating and mobilizing resources for sustainable interventions such as relocation of households from disaster prone areas, reconstruction of destroyed houses and wholesome rehabilitation of affected communities."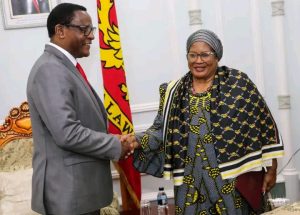 According to Chakwera, the involvement of the two presidents is collaborating perfectly with government efforts to ensure that Malawi builds adequate resilience against similar tragedies in future.
"I will keep on engaging all willing stakeholders so that we collectively address the pertinent issues at hand in Cyclone Freddy remedial plan," Chakwera says.
Tropical Cyclone Freddy which hit Malawi on Saturday 11th March 2023, had led to loss of life, injury and devastation of crops, homes and infrastructure in parts of Southern Malawi.
President Chakwera, on Monday , 13th March, 2023 declared a state of disaster in the southern region of the country.
Damage had been caused by torrential rain, high winds, significant flooding, rivers bursting their banks and landslides, notably in Blantyre, Chikwawa, Chiradzulu, Mwanza, Neno, Nsanje, Phalombe, Thylo and Zomba districts.