Today, Malawi president, Dr. Lazarus Chakwera has opened 2023 Tobacco Marketing Season at the Kenengo Auction Floors in Malawi's capital, Lilongwe.
According to Chakwera , the season has commenced on a satisfactory note evidenced by prices fetched by the first lot of leaf at the market .
"This year's theme -'Sustainable Tobacco Production, Key to Our Economy' -reminds us that despite growing voices against the crop globally, Malawi's economy still leans heavily on tobacco as a major forex earner,"
"We will, therefore, support this crop with necessary regulatory frameworks and more markets for it to continue benefiting our economy," the president wrote on his official Facebook page.
Chakwera says: " I, therefore, plead with tobacco companies to fairly maintain and upscale the pricing structure across the buying season so that we accord our hardworking farmers a decent income from their labour."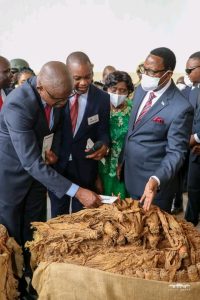 The president says he continues to call for compliance to environmental sustainability, human rights, governance and Agricultural Labour Practices (ALP).
Chakwera says his administration will continue reinforcing a sanitized value chain characterized by best practices from growers, market operators, grower associations, transporters and other stakeholders.
"That way, we can all be assured of a profitable marketing season that benefits farming households in particular and the economy in general," he says.
Malawi is one of Africa's largest tobacco leaf producers and in 2015, produced 22.6 percent of all of Africa's output of tobacco leaf. In 2018, 95,356 tonnes of tobacco were harvested in Malawi. It is one of the world's largest producers of burley tobacco. In 2015, tobacco farming took up more than 5 percent of all of Malawi's farming land – the highest percentage anywhere in the world, at that time.
Government has called tobacco a "strategic crop" for Malawi and defended the country's continuing investment in its production. However, earnings from tobacco leaf export have declined sharply over recent years.