Monday, 3rd April, 2023, Darussunah Foundation donated Ramadhan packs to over 1000 Muslims in Salima district.
The Foundation's Board Secretary, Sheikh Hussein Mussa said the donation is aimed at supporting Muslims during this Holy Month of Ramadhan.
"We have donated items to the Muslims who are fasting in this Holy Month of Ramadhan because as Muslims we are encouraged to give charity especially in this Holy Month of Ramadhan," Sheikh Mussa made the remarks during the donation ceremony at Salima Local Education Authority (LEA) Primary School grounds.
According to the Board Secretary, in this Holy Month, most Muslims engage in various charity works to receive rewards from Allah.
"In this month, most Muslims are soft-hearted and we are encouraged to help the needy who can't afford to buy food for themselves for Suhoor and Iftar," Mussa said.
The Muslim cleric advised other Muslims to continue supporting needy Muslims during this Month to enjoy observing one of the pillars of Islam.
"Let us share whatever we have to the Muslims who are fasting. Let us also support those affected by Tropical Cyclone Freddy either they are Muslims or non-Muslims as long as you are capable because differences in religious affiliations should not take away humanity among us," he said.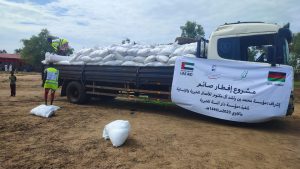 Member of Parliament (MP) for Salima Central Constituency , Gerald Kapiseni commemded the foundation for supporting his constituents with food packs in the month of Ramadhan.
"When Muslims are fasting during this Holy Month of Ramadhan, they need good food especially when breaking fasting (Iftar). Not everyone can manage to get food for Suhoor and Iftar during this Holy month and the coming in of Darusunnah Foundation to the Muslim community in my constituency is very important," Kapiseni said.
The foundation donated 25 kilograms of maize flour, 25 kilograms of rice, 10 kilograms of sugar, 4 litres of cooking oil, 20 packets of soya pieces, and 2 kilograms to the tune of 6 Million Kwacha.
Darusunnah Foundation thanks Mohammed Bin Rashid Humanitarian and Charity Establishment and the Government of the United Arab Emirates (UAE) for the continuous humanitarian efforts in Malawi.