Over the weekend, a group of Muslim students from Exploits University – Blantyre campus provided Iftar to Muslim inmates at Chichiri prison in Blantyre.
According a Facebook post on the university's page, despite the challenges of fasting and limited resources, the students were determined to show their support and share their blessings with those who are less fortunate.
"Their selfless gesture to the prisoners is a true testament to the spirit of Ramadan, which emphasizes compassion, generosity, and unity,"
"We are proud of our students for embodying the values of Islam and demonstrating what it truly means to be a part of a caring and empathetic community," says the University.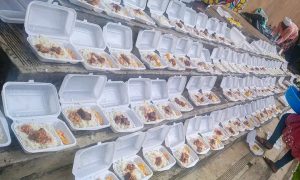 The leader of the group, Hajra Hussein Yassin adds: "As Muslims, we are taught to be compassionate and generous towards others, particularly those who are less fortunate than us. Ramadan is a time when we are reminded of the importance of helping others and spreading kindness. We wanted to show our support for our fellow Muslims, and remind them that they are not alone."
Ramadan is a month of fasting and abstaining from things considered to be impure for the mind and body. Those partaking in Ramadan abstain from food, drink and impure thoughts between the hours of sunrise (Fajr) and sunset, allowing them instead to focus on prayer and connecting with Allah (SWT).
The act of fasting allows the individual to understand the pain and suffering of millions around the world who live their lives in poverty and famine, leaving the participant feeling more grounded and grateful for all that Allah (SWT) has given them.