Islamic organisation called Darusunnah Foundation from Sweden has constructed a magnificent house for a needy woman who is a widow in Chisani village, Traditional Authority Karonga in Salima district.
The house has been handed over to the woman, Miss Mariam Mustafa today during a ceremony graced by Salima Central Constituency Member of Parliament, Mr Gerrard Kapiseni Phiri and Muslim Association Malawi Chairman for Salima district Sheikh Ibrahim Waiti.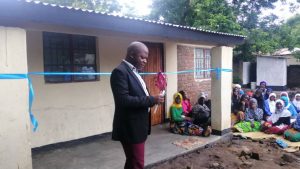 Speaking during the ceremony, Director of the organisation in the country Sheikh Ismail Allan said they are happy to finalise this significant project.
"When we learnt that the lady is in need of a house, as an organisation with the procedures of the country to assist the needy, we have built the house. The cost of the house is 1. 4 Million Kwacha," he said.
Sheikh Allan said the organisation is also planning to continue assisting the woman with other basic needs such as food and clothes.
He said the organisation is also helping to improve the country's education, health and relief support.
"Our organisation is focusing on the education sector. We are supporting students in primary schools as well as secondary schools,"
"We are also providing relief support such as food and shelters among others when floods occur. We are also planning to construct a maternity wing and the program is in process," he said.
In her remarks, the beneficiary hailed the organisation for the support.
According to Miss Mariam Mustafa, the construction of the house has established a new phase in her life.
"I was in need of a good house because my old house was life threatening. It was in a very pathetic state. I am so grateful to this Islamic organisation for constructing this house for me,"
"It is rare to find such kindhearted people who can give you such a modern house. I and my nine grandchildren will now be staying in a very conduncive environment," she said.