Malawian graduate of Islamic University in Uganda (IUIU) who is media and communications expert, Dr Rodrick Mulonya has challenged Malawian students expected to graduate on November, 9th, 2019, to use the skills acquired on the campus appropriately.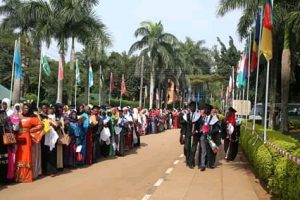 Speaking in interview with Malawi Muslim Website , Dr Mulonya who is a former Executive Director of Malawi Broadcasting Corporation(MBC) and the Founder and Chairperson of Angaliba Foundation (Angaliba TV and FM) says IUIU is one of best institutions on earth because of its moral background.
"IUIU is one of the best institutions on earth because of the discipline. Graduands should work hard and don't underrate themselves. The world is there to prove skills acquired on campus. What is most important is your significance to serving fellow citizens in the service of humankind," says Dr Mulonya.
The alumnus who is also the founder of HBI institute of Communication and Management which is Malawi's only television school says the graduands are supposed to be innovative and prove that in Malawi.
"They need to join the creative industry where you think of innovativity to balance the equation," he says.
Dr Mulonya says there is employment in Malawi but what is important is to have the right skills.
10 Malawian students are expected to graduate in various disciplines such as Bachelor of Business Studies, Bachelor of Information Technology, Bachelor of Procurement and Logistics Management and Bachelor of Science in Nutrition and Food Science among others.