Yesterday, 10th May, 2023, Minister of Agriculture , Sam Kawale officially opened the tobacco auction floors in Mzuzu.
According to Kawale, the actual sales started on Monday,8th May, 2023 and the prices have been good.
"Looking back at the last month, tobacco prices across the country have been generally good compared to the previous year and we seem we will have a good year,"
"The first good news is that $43m has been made compared to $3m made at the same time last year," he wrote on his Facebook page.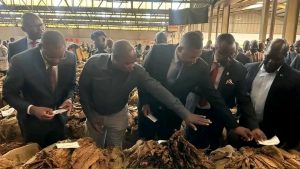 The agriculture minister says the second good news is that the volumes bought this year so far have been more than last year. 20m kgs in 2023 compared to 1.6m kgs this year
"The third good news is that rejection rate is around 3%, lower than 25% recorded last year. This is because farmers are adhering to good grading practices,"
"The fourth good news is that the average price per KG is $2.11 this year, compared to $1.75 last year," he says.
He adds : "The fifth good news is that we have two new buyers this year compared to last year."
Kawale discloses that his ministry has noticed that there is a delay in remitting funds to farmers and that the issue is being resolved with Reserve Bank of Malawi.
"Your Ministry of Agriculture will continue to work with buyers and sellers to make sure everyone is happy, " he says.
The 2023 Tobacco Market was opened last month by Malawi president, Dr. Lazarus Chakwera at Lilongwe Auction Floors.