Friday, 31st March, 2023, Taqwa Taalim Muslim Sisters Organization from Lilongwe empowered women who have just joined Islam in the area of Traditional Authority (TA) Zulu in Mchinji district.
The organization's Chairlady Sister Rabia Rajab told Muslim Media Agency that the women brought Ramadhan packs and clothes among others to help the reverts effectively observe fasting in the Holy Month of Ramadhan.
According to Sister Rajab, Muslim women in Lilongwe commits to work closely with the reverts with the aim of making them understand Islam in-depth.
" We will be coming here in Mchinji to motivate these women so that they should know Islam fully and spread it to others so that this area should have many Muslims compared to the current number," she told Muslim Media Agency.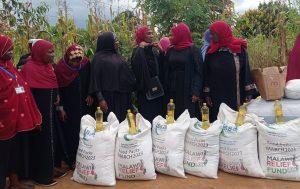 The Chairlady reiterated that as Muslim women, it is their role to familiarize the reverts with the Islamic teachings and support them accordingly.
" We have brought Islamic clothes here so that our dear sisters must be putting on to look Islamic in this Holy month of Ramadhan and beyond. We will continue visiting these sisters to make them understand that they are fully welcomed in Islam," she said.
Traditional Authority Zulu is among the new women to have joined Islam in the area . The Chief said after making a thorough research, she established that Islam in the only religion of God hence embracing it.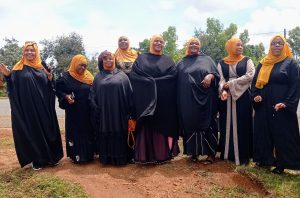 In his remarks, Sheikhat Hajira Silvia Manda Chibisa who also joined Islam four years ago disclosed that she is on an intensive campaign in the area of Traditional Authority Zulu to bring many people to Islam.
Sheikhat Chibisa who held several top positions in Christianity before embracing Islam said at the moment, over 400 people have become Muslims in the area and she is optimistic that the number will continue rising.
"I understood Islam and it is now my turn to make others also understand it. Islam is a beautiful and complete religion and it has made me complete and explore the purpose of life. I am so proud to be a Muslim. I am now complete," she told Muslim Media Agency.
Brother Abdullah Uthman is the Sheikh at Masjid Al-Hijrah, Cheyadi Village, Traditional Authority Zulu where most of the reverts pray from.
The Sheikh told Muslim Media Agency that they have special sessions at the mosque to teach the reverts about Islam and how to be good Muslims.
According to Sheikh Uthman, meanwhile, he is planning to schedule special sessions for the Traditional Authority Zulu to teach her about Islam at her house.
"I need to thank Allah for allowing the Traditional Authority to join Islam. May Allah make it easy for him. Now, it is my duty to schedule private lessons for her so that she can understand Islam in-depth. Allah will also make it easy for her," she told Muslim Media Agency.
Taqwa Taalim Muslim Sisters Organization has over 1500 members. Some of the objectives of the organization include supporting the needy people such as the elderly, widows, orphans and needy students , its Trustee Sister Hawa Hassan told Muslim Media Agency.