Minister of Energy, Honorable Ibrahim Matola says Malawi and other African countries are committed to address challenges facing the energy sector and promote sustainable energy practices.
Matola made the remarks today during the 18th CII- Exim Bank Conclave on India-Africa Growth Partnerships under the theme : " Scalling up Green Energy Collaborations ," in New Delhi, India.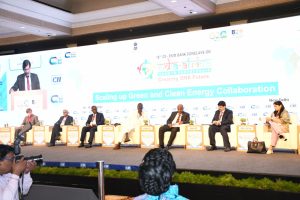 Matola said in recent years, Africa has witnessed the detrimental effects of climate change, leading to increased frequency and intensity of extreme weather events such as droughts and floods that affected the energy sector.
The Minister gave an example of Malawi that was hit by Cyclone Freddy.
"A Cyclone that has taken away lives, infrastructure, crops and homes to mention a few. Last Year (in January 2022) Malawi was hit by Cyclone Anna, which caused damage to one of Malawi's Major Hydropower Station (Kapichira Power Plant) and took away 128MW from our national grid," he said.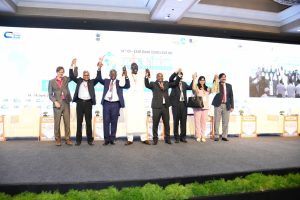 According to Matola, these events had a severe impact on Malawi's energy infrastructure and the capability to hinder the country's ability to provide consistent and reliable energy services to the people and preventing the increasing of access to electricity from the current 12 percent.
"The devastating consequences of these challenges highlight the critical importance of finding sustainable solutions to meet our energy needs. Malawi, along with other African nations, recognizes the need to transition to a more sustainable and resilient energy sector as stipulated in the African Union Agenda 2063 on achieving environmentally sustainable and climate resilient economies and communities,"
"We must mitigate the effects of climate change, reduce greenhouse gas emissions, and embrace renewable energy sources. By doing so, we can improve energy access, enhance energy efficiency, and ensure the long-term sustainability of our energy systems," the Minister said.
He added : "The Government of Malawi has taken significant steps to address these challenges and promote sustainable energy practices. We have embarked on establishment of enabling policies, strategies and initiatives to encourage private sector investments in the energy sector,"
"Furthermore , we are actively exploring opportunities to harness the potential of renewable energy and preliminary and in some cases feasibility studies have been done for hydropower projects, geothermal projects, solar and wind potential in support of the development of such projects. Enabling instruments such as Integrated Resource Plan, Independent Power Producer Framework, Renewable Energy Strategy, Mini-Grid Regulatory Framework and others have been put in place to guide investments in the sector. "
Matola said through Malawi's efforts to enhance private sector, actors in the energy sector have borne fruit since companies such as JCM power Limited, Serengeti Solar and Cedar Power have established solar and Hydro power stations and are currently commissioned and operational and many other energy efficient projects by private investors are underway.
"However, like any ambitious undertaking, we face challenges, and one of the key obstacles is access to adequate financing. The implementation of sustainable energy projects requires substantial financial resources, and we must explore innovative financing mechanisms and partnerships to mobilize the necessary funds. It is in this context that we seek to strengthen our collaboration with India, a country renowned for its expertise in renewable energy and its commitment to supporting sustainable development in Africa," he said.
Matola added : "The Government of India, through its various initiatives and programs, has demonstrated its dedication to advancing clean energy technologies and supporting partner countries in achieving their energy goals. We are immensely grateful for the assistance provided thus far, particularly through the lines of credit from the Exim Bank. These resources have enabled us to embark on vital energy projects that have contributed to our energy security,"
"As we gather here today, we humbly request the Government of India to continue its support in providing both financial resources and technical expertise to assist us in developing and implementing sustainable energy projects. There is need to adopt well researched new technologies whilst considering to meet energy requirements and developmental goals for Africa, as well as India and other developing countries."
The 18th CII-Exim Bank conclave held from 14th June – 16th June, 2023 brought together members from different countries in Africa, Asia, Europe and America.