Malawi Muslim Medical Students under their umbrella body called Malawi Medical Students Association (MAMSA) at International University of Africa (IUA) in Khartoum, Sudan conducted a health check-up program on Friday, 14th February, 2020.
In an interview with Malawi Muslim Website, MAMSA Secretary Uthman Wisck hailed the program.
"The event was very important because our fellow Malawian students here at IUA were able to know their health status. Nowadays it is of high paramount to know your health status", said Wisck.
He added to say: " Medical students who were offering services at the event also benefited a lot from the program in improving their confidence when t handling patients."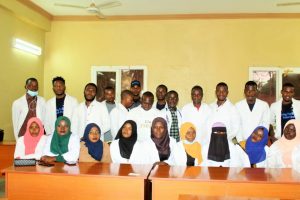 Abdul Umande, a Malawian second year student of Bachelor of Science in Medical Laboratory Science at IUA also told Malawi Muslim Website that the program was aimed at diagnosing health complications of students.
"The medical students were testing blood pressure ,body mass indices , oxygen saturation as well as dental saturation among others ," he said.
Umande said many students accessed the free services.
"The large number of students accessed the services. Not only malawian students but also students from other countries because it was open to everyone because MAMSA's main goal is to save lives of people," he said.
Umande told Malawi Muslim Website that the program were found with health complications.
"It was a helpful program and it has indeed saved lives of people because some people were found with some problems. For example, in dental examination , almost 70 people have been found with caries and plaques that need to be restorated," he said.
The medical students have asked those found with problems to seek medical attention as soon as possible.
The program was supported by former IUA medical students from Malawi, Three Kings Graphics, Ams Designs and Proma Tech among others.