Thursday, 30th March, 2023, the Muslim Association of Malawi (MAM) led by the National Chairman, Sheikh Idrissa Muhammad donated various items to Cyclone Freddy victims at Nyezelera camp in Phalombe district.
In his remarks during the donation ceremony, Sheikh Muhammad pledged to continue supporting the Malawi Government in helping the victims.
"As MAM, we are pleased that we are the first organization to support the victims here at Nyezelera camp since the disaster occurred. We are committed to continue supporting our brothers and sisters in this hard time through various approaches," Sheikh Muhammad said.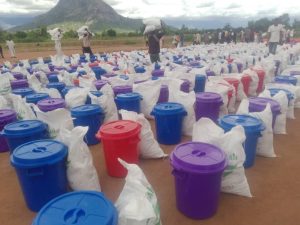 The MAM National Chairman commended President Dr. Lazarus Chakwera for launching "Operation Tigwirane Manja" aimed at promoting togetherness when aiding people affected by the natural calamity.
"As a faith based organization, we will continue to help even in the recovery process by supporting families with agricultural interventions to make them self-reliant ," he said.
The Muslim Association of Malawi donated items such as sugar, salt, washing and bathing soap, cooking oil, and buckets among others.
In the aftermath of the Tropical Cyclone Freddy weather system that ripped through the southern region of Malawi, there are currently 563,771 people internally displaced residing in 577 camps, 511 deaths have been reported, at least 1,724 people are injured, while 533 people are still missing according to Malawi's Department of Disaster Management Affairs (DoDMA).