Monday, 17th April, 2023, the Muslim Association of Malawi (MAM) Blantyre District Chapter together with the Muslim Youth Society (MYS) donated various items to Tropical Cyclone Freddy victims at Kapeni Camp, Misesa Village, Traditional Authority (TA) Kapeni in Blantyre.
Speaking after the donation ceremony, Sheikh Amman Omar who is the Chairman for MAM Blantyre District Chapter said it is a must to share love and care with the victims in this Holy Month of Ramadhan.
According to Sheikh Omar, it is a must to consider the Muslims in the camps so that they can enjoy fasting.
"We have come here to support our fellow Muslims so that they can be cushioned from the impacts of the cyclone freddy and focus on supplicating to Allah during this Holy Month of Ramadhan. As MAM Blantyre District Chapter, we are committed to support the victims during this Holy Month and beyond ," he said.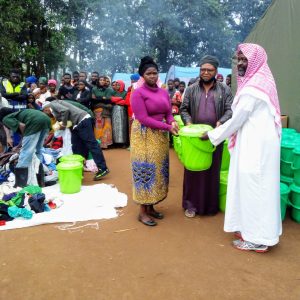 Sheikh Omar hailed Muslims for supporting the program in various capacities.
"Several Muslims supported us in various ways to make this event possible. Some gave us clothes for the victims," he said.
In his remarks, Muslim Youth Society (MYS) Treasurer, Brother AbdulKarim Yunus said it pleased their organisation to partner with MAM in this prophetic activity.
"One of the philosophies of the Muslim Youth Society is to incorporate every Muslim, so that is why we decided to partner with our mother body , MAM Blantyre to cheer up these brothers and sisters at this camp," he said.
Brother Yunus said being that this is the Holy Month of Ramadhan, it is a requirement for the organisation to extend its love and care to all the Muslims including those affected by the Tropical Cyclone Freddy.
One of the beneficiaries at the camp, Miss Halima Shaibu commended the organisations for the donation. Shaibu requested the parties involved in the activity to extend their charity works to other people affected by the natural calamity.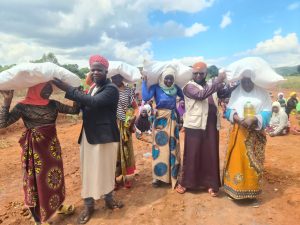 The organisations donated clothes, buckets and Ramadhan Packages to over 100 families. Before dating Kapeni Camp, similar donations were made to several Muslims at Chileka, M'deka and Lunzu in the same city of Blantyre.