Today, Minister of Energy, Ibrahim Matola was addressed the 8th Edition of Green Finance Conference underway at the Bingu International Conference Centre (BICC) in Lilongwe.
"It was a great honour for me to deliver a keynote address this morning at Bingu International Conference (BICC) during the opening ceremony of the 8th Edition of Green Finance Conference on behalf of the Minister of Finance Hon. Sosten Gwengwe who is busy with other engagements," he wrote on his official Facebook page.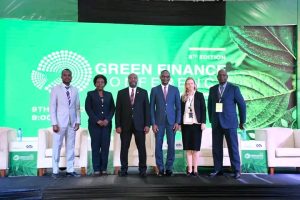 According to the Minister, the three-day conference has come at a more critical time as Malawi and Africa seek innovative ways to mobilise resources for financing development agendas.
"In Malawi, like many African countries facing several development challenges; new sources of financing are needed,"
"Green finance offers us such sources that tap into private capital flows where public funding has been limited while creating desperately needed jobs," Matola said.
He added : "By raising awareness about climate change risks and promoting investment decisions that are environmentally sustainable, signs abound of emerging structural shifts- increasing investor interest in low carbon-sectors like renewable energy systems creates rich investment potential across diverse fields including agriculture, construction et al."
Matola said the conference marks an important step towards identifying practical strategies which will enable Africa's private sector contribute significantly in implementing climate change related goals set out by Paris agreement while aiming at growth objectives addressing unemployment notably through environmental conservation entrepreneurship initiatives catalysed by access to sustainable funding models.
The conference is being held under the theme: "Africa's Private Sector Contribution to the Implementation of the Paris Agreement on Climate Change".