Tuesday, June 6, 2023 Minister of Energy , Ibrahim Matola officially opened the 57th Association of Power Utilities of Africa (APUA) annual meeting which the government of Malawi is hosting through EGENCO from June 3 to June 9, 202 at the Bingu International Conference Centre (BICC) in Malawi's capital, Lilongwe .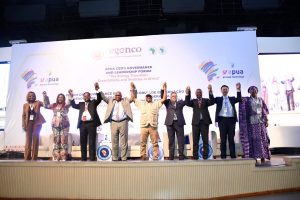 In his remarks, Matola said there is a need to get together occasionally to look at the problems affecting our power sector and find solutions to the problems that we face every day as Africans, as engineers, and as professionals in the utilities of various countries.
"It is no secret that one of the issues that our continent, Africa, continues to face is the low level of access that our people have to power. This is due, among other things, to a lack of infrastructure and capacity,"
"Therefore, these APUA meetings come at a very crucial time as we try to figure out how to boost our generation capabilities and upgrade our infrastructure so that our people may have access to energy," Matola said.
The event has drawn attendees from around Africa, Europe, Canada, and China. The Association of Power Utilities of Africa (APUA), formerly known as the Union of Producers, Transporters and Distributors of Electrical Energy in Africa (UPDEA), was created in 1970 with its headquarters in Abidjan, in Côte d'Ivoire. Today the association has 57 active members, as well as affiliate, associate and observer members.