Tuesday, 28th March, 2023, the Royal Moroccan Embassy in Malawi through Muhammad VI Foundation has provided Ramadhan packs to 100 Muslim families affected by Cyclone Freddy in Blantyre.
Moroccan Ambassador to Malawi, His Excellency (HE) Naji Abdelkader presided over the donation ceremony at Muhammad VI Foundation offices in the commercial city.
In his remarks, the diplomat stressed that it is a role of every Muslim to support a fellow Muslim struggling to source food during the Holy Month of Ramadhan and beyond.
"We decided to reach out to these people because we know that first, it's a month of Ramadhan where charity is propagated a lot and also that with the effects of cyclone freddy, a lot of people do not have food to use when breaking their fast and also for daily consumption," Abdelkader said.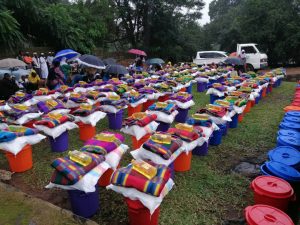 The Ambassador asked individuals, organizations and countries to continue supporting those affected by natural disasters such as cyclones saying togetherness is the only way to finding solutions that affect victims and survivors of natural calamities.
"Natural disasters are now everywhere. Just this year alone , we have heard of earthquake in Turkiye and Syria, then floods in Brazil and now we are talking about Malawi. The only way to go about this is to come together and support these countries and be united so that those affected can be reached out with different support and also let the countries come up with plans that will help to restore the environment," he said.
In his remarks, Masrooh Muhammad Abdullah who is the Spokesperson for Muhammad VI foundation in Malawi thanked the Royal Moroccan Embassy for supporting Muslims with the Ramadhan packs again.
"The Embassy supports us every year with this kind of donation especially in this month of Ramadhan and we are thankful that this year this donation has also been rendered to families that have been affected by cyclone freddy and we believe we will be able to reach out to many families in other districts as who have been affected by the cyclone." Abdullah said
The beneficiaries were given 2 litres cooking oil, 10 kilograms of Maize flour, 4 kilograms of sugar, 1 kilograms of salt, 4 packs of soya pieces, a blanket and a bucket.