A Muslim girl , Shameemah Morta aged 17 and currently pursuing Bachelor of Science in Architecture at the University of Malawi,the Polytechnic wins "My Future,Our Future " Youths Essay and Arts Competition organised by the National Planning Commission (NPC).
Last week, Morta received her award and other prices from President of the Republic of Malawi,Dr Lazarus Chakwera after being the top winner in the arts category of the competition.
"I received a tablet, cash prize from World Bank and another from National Youth Council.I also received learning materials and a bag of maize seeds from Seedco,"Morta told Malawi Muslim Website.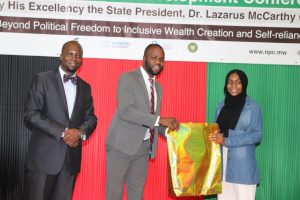 She told Malawi Muslim Website that the competition was mainly calling for entries from youths aged between 10 and 25 to submit either essays (that were grouped into 3 categories; primary, secondary and tertiary students) or artistic drawings or paintings reflecting on the Malawi we want by 2063 as NPC's agenda.
"The message for the call was publicised through various media sources such as radio stations as well as newspapers. I participated in the art category in which my art piece was an abstract piece in which I drew a Malawi that we can achieve if every citizen adopts a positive mindset towards changes and is well determined to transform Malawi into a better home,"
"In my art work is a map of Malawi that has a vast spread of infrastructure across the country symbolising our growth in economy. It shows citizens carrying our country symbolising how literate and healthy they are that they are able to take responsibility for their country. And also it shows a well conserved environment which shows how sustainable development is what takes place and advancements do not hinder the future generations of their needs. Lastly, it's a Malawi that is still rising on every part of it and this is shown by the rising sun that spreads it's light across the nation," she says.
Morta says she believes all this can be achieved if there is improvement in healthy and educational service provision, growth of private owned businesses and full participation of citizens in decisions for the country.
Morta told Malawi Muslim Website that it was an honour to become the best in the category.
"Honestly, it feels great. I feel honored to take part in such a nationwide competition that also has much with the future of our country," she says.
On how she managed to be a second year University student at the age of 17 , Morta says she skipped standards 7 and 8 at Walani Private School and proceeded to Dedza Girls Islamic Secondary School where she scooped 9 points.
"The school I was learning at did not go until standard 8. That's Walani Private School. So basically, I wrote neither national nor Cambridge examinations at the end of primary school. After standard school , I went straight to Dedza Girls Islamic Secondary School," Shameemah Morta told Malawi Muslim Website.
Feedback: malengabright@gmail.com.