Islamic Organization called Lilongwe Muslim Youths (LYM) has on 3rd January, 2021 (Yesterday) donated various items to Muslim inmates at Maula Prison in Malawi's Capital, Lilongwe.
LYM Chairman Bashir Kamwendo has confirmed the development in an interview with Malawi Muslim Website.
Kamwendo says the youths decided to make the donation after realizing that the inmates lack various basic needs in the prisons.
"We decided to donate to the Muslim inmates at the prison because it is obvious that they lack several things in prison. It is also the teaching of Prophet Muhammad (PBUH) that we must be giving 'Swadaqah' as Muslims," Kamwendo told Malawi Muslim Website.
Kamwendo says as Muslim youths, it is mandatory to involve themselves in charity works to spread the uniqueness of Islam hence the donation.
"Prophet Muhammad (SAW) urges us (Muslims) to donate and that it why we donated items such as robs, cups for making ablution because they have a mosque and soap. Our partner, Islamic Information Bureau (IIB) gave us Islamic books that we donated to the Christian inmates as well," he says.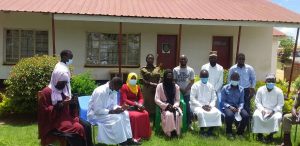 In his remarks, Supervisor of Madrasah at Maula Prison Sheikh Thelere commended the Muslim youths for the donation saying that it has come timely.
"We are grateful for the donation. These inmates lack several items and we are grateful that you decided to cheer them up. These inmates are still lacking other items such as Sugar and balanced diet among others. Previously, ASUM was giving them meat but COVID-19 disrupted everything," Sheikh Thelere said.
The donation benefited 135 Muslim inmates at the prison. The Muslim youths say they will visit the prison again to make another donation. The organization has commended authorities at the prison for allowing them to visit the inmates during the time novel coronavirus.