Mzuzu University Muslim Students Association (MUMSA) on Saturday visited Inmates at Mzuzu Masasa Prison.
According to MUMSA Chairman Aide Farao, the students went to the prison to comfort the inmates with words of God as well as giving them assorted items such as sanitary pads,soaps, body lotions, tooth brushes,brooms, mops and detergents.
"It was our wish that at the end of this semester we should have at least done this charity work and finally I am very happy that last Saturday we paid a visit to the inmates at Masasa Prison to comfort our brothers and sisters spiritually and physically," he told Malawi Muslim Website.
The team was escorted by Mr Yusuf (MUMSA Patron) and Mrs Hamis (MUMSA Matron) both lecturers at Mzuzu University.
After being welcomed by the Chaplain of the prison Mr Fumbani Gondwe, the students and other inmates cleaned up the premises of the prison.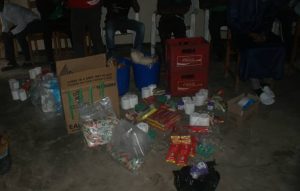 In his remarks, Gondwe thanked the students for donating to the inmates.
He said this was the first time for a religious association specifically students to cheer up the inmates.
He added that inmates have a lot of needs which the prison Dee department cannot solely provide.
"For example, words of encouragement, as many think that when they are imprisoned that is the end of their life. Henceforth, when they are visited and encouraged, they start developing a different thought altogether," he said.
Masasa Prison is one of the prisons in Malawi which is keeping not less than 700 inmates.
Many of them sleep on the floor, lack clothes, blankets,food, hygienic materials and medicine for their daily healthy living.