Muslim Youths in Malawi have several investments that need support. The only way of supporting them is through buying their goods and services. Hassan Nkata Jr is one of the Muslim youths who need your support for his business to continue growing.
It is essential to be supporting each other as Muslim youths. Canadian writer Charles De Lint once said, "I don't want to live in the kind of world where we don't look out for each other. Not just the people that are close to us, but anybody who needs a helping hand. I can't change the way anybody else thinks, or what they choose to do, but I can do my bit." Do your bit as Muslim youth to see your Muslim brother or sister succeed.
Hassan Nkata Jr aged 26 is the owner of Pan and Grill Delights. Pan and Grill Delights is a catering service entity that offers healthy meals for various health benefits.
Hassan Nkata Jr tells Malawi Muslims Official Website that Pan and Grill Delights offers several services such as making meal plans, private cooking for events, and consultations.
"Based in Nkolokosa, Blantyre, I began offering services earlier this year after a careful assessment of the food industry. With quite stiff competition, I had to come up with a unique service that will be dear to all my customers including those with chronic diseases and people that seek to maintain their diets," Hassan Nkata Jr says.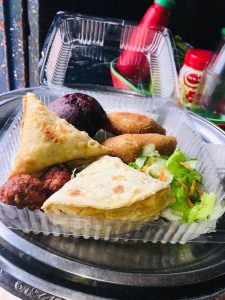 Hassan Nkata Jr studied Accounting and Finance at Blantyre International University (BIU) and obtained a Marketing Certificate as one way of improving his business traits.
Pan and Grill Delights Founder says he makes sure that the services are unique by offering meals that are dear to healthy benefits. Nkata Jr says his services are unique in such a way that the main objective is to bridge a gap between nutritional science and traditional cuisines.
"You can understand that those with chronic diseases are given prescriptions on what to be taking and kinds of food to leave out in their diets. Our Menu is equipped with recipes that doesn't have complications of ones healthy status which includes Mediterranean diets, meals that offer numerous healthy benefits," he says.
Hassan Nkata Jr says the inadequacy of commodities in most of Malawi markets is quite the challenge that he go through that makes it quite a gamble to maintain his recipes and service provision.
"Due to this fact, fluctuation of prices then becomes rapid. You can understand that in our country most commodities are produced seasonal. My major hope is to have a constant supply on items through out the year and most likely to have these commodities produced locally. However, in cooking you have to be creative. The use of substitute ingredients in recipes and making sure you stick to quality service provision always create a way out from these challenges, making it easier to maintain the Menu and prices," Nkata Jr told Malawi Muslims Official Website.
The youthful entrepreneur urges youths in the country to develop passion for business if they need to contribute to the country's economic growth.
"As youths living in this generation, I can say we are so much privileged making it easier for us to create opportunities within ourselves. We have numerous sources of knowledge which is the major key in many of our ventures best we can do is utilize with everything we have without doubt and fear. Running a business is quite exciting when you pour in passion, patience and perseverance because you take every step attentively and lessons are learned through out. Be creative in your productions, service provision, and never rest on marketing yourself," he says.
Pan and Grill Delights offers several healthy meals such as Chicken Stir Fry, Chicken Wraps, Mayo Chicken, Chicken Burgers, Beef Stir fry, Tacos, Beef and Chicken Salads. Smoothies, Fresh Ice Cream, Guacamole and Tuna Salads.
You need service from Pan and Grill Delights ? Contact Hassan Nkata Jr on 0888 44 66 68.
If you are a Muslim Youth Entrepreneur and you need to be featured in the section, don't hesitate. Contact Bright Malenga on +256 753 30 27 67 (WhatsApp). Email: malengabright@gmail.com