Minister of Water and Sanitation who is member of parliament for Chikwawa Mkombezi Abida Sidik Mia has encouraged women in the country to be independent and hardworking.
Mia made the call at a bridal shower of Nester Mdooko, daughter to the Deputy Minister of Education Nancy Chaola Mdooko.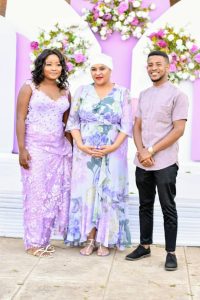 Speaking at the event, Mia said women should not be relying everything on their husbands and also support their men in taking care of their families.
The Minister also encouraged women to work hard whether in various ventures such as business, work so that they can contribute something in the family.
As a business woman Mia said it was not easy for her to be where she is now
The Minister disclosed that she started from scratch but because of her hard-working spirit, her business grew bigger and now she is one of the successful business women in the country.
As a successful entrepreneur and a philanthropist , Mia has empowered thousands of women across Malawi to be self sufficient.
In her remarks, Deputy Minister of Education, Nancy Chaola Mdooko thanked the Minister for gracing the occasion saying it means a lot to her and she appreciates the love shown by Mia.
Mdooko added that the inspirational story that was shared by the Minister is going to uplift many young women because she is a role model to many.
She also thanked the Minister for the gifts she brought at the shower which includes cake and some money.