Yesterday, Minister of Energy, Ibrahim Matola visited Kapichira Powerstation since its full restoration four months ago.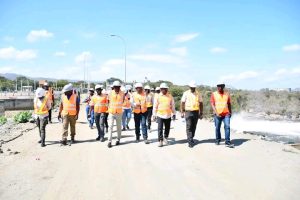 Writing on his official Facebook page, Matola says during the visit he was accompanied by Minister of Lands , Housing and Urban Development and Chief Presidential Advisor.
" Today (yesterday), was my first visit to the Kapichira Hydropower Station since it was restored to full capacity four months ago. I was accompanied by the Minister of Lands, Housing and Urban Development Honourable, Deus Gumba, MP, and the Chief Presidential Advisor, Dr. Adamson Mkandawire," he says.
The Energy Minister says his major interest was in seeing how EGENCO is preparing for the upcoming rainy season, which begins in a few months.
" To be honest, I was amazed with how they have continued to fortify the dike as we await the start of Phase 2, which will take approximately two years to complete," Matola says , adding that government aims to ensure that the impact of the work is minimal because all machines will continue to operate as they do now.
Matola adds: "It is nonetheless impressive to observe that the majority of the work has been done by local engineers, demonstrating that the country has the requisite expertise and human capital to turn things around."