The Grievance Redress Mechanisms (GRM) committee of the Skills for a Vibrant Economy (SAVE) project at the Malawi University of Science and Technology (MUST) has sensitized the institution's outsourced staff on the upcoming construction of two 250 capacity lecture theatres under the project.
Speaking during the meeting held on April 20, 2023, in the Library Auditorium, GRM Committee Vice Chairperson, Amon Kamtule, urged the outsourced staff to welcome the project, saying it has several positive outcomes aimed at uplifting living standards of the surrounding communities.
"The construction of the new lecture theatres will boost the economy of the surrounding communities through creation of job opportunities for our unemployed relatives. The project will also help the community to make money through various entrepreneurial activities during construction works," Kamtule said.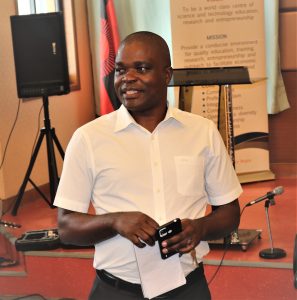 He advised the participants to desist from malpractices that may suffocate the progress of the project during implementation, citing labour disputes, corruption, theft, sexual harassment, child labour and bribery.
"We need to advise you not to be agents of corrupt activities, stealing the materials such as cement, indulging in sexual affairs with the visiting employees, aiding the contractor to employ underage children/relatives or bribing the chiefs to recommend your relatives for job opportunities," he said.
Kamtule also urged the outsourced staff to always help in protection of construction materials when the project commences this coming June.
"You will need to be the watchdogs when the construction of the project commences. We are requesting you to report any suspected malpractices that can lead to shoddy work such as theft of construction materials at the site. We will introduce a toll free number and boxes to enable you to report all these issues to the GRM Committee which is composed of MUST staff, students and community members," he said.
One of the MUST outsourced staff, Justin Vinikira, a cleaner, commended SAVE project financiers—The Malawi Government and World Bank, saying the initiative will economically empower community members.
Apart from cleaners, other outsourced staff at the university include security personnel and landscapers.
Chairperson of the GRM Committee, Ellasy Gulule Chimimba said they will also be sensitizing students as the last group of in the exercise. Previously, the committee has interacted with the MUST staff and community members in villages around the MUST Campus.
SAVE is a five-year project supported by the World Bank to the tune of US$50 million as loan and another US$50 million as grant and is being implemented by public higher education institutions, technical colleges and other players in the skills development sector.