Asian Business Community (ABC) says it is ready to continue working hand in hand with Malawi Government to win the fight against novel conavirus (COVID-19).
The Association made the assurance on Monday during a press briefing at Victoria Hotel in Blantyre.
Addressing journalists , the Association's Chairman, Dr Parth Patel said the community will use its COVID-19 Taskforce to see off the new coronavirus.
"We, as Asian business community, we have achieved something starting from the time we registered first case here in Malawi. So far, a COVID-19 Taskforce of 40 volunteers has been assembled and sub committees formed with significant progress made. we have managed to print 200,000 leaflets which have been distributed Nationwide under the "DO THE FIVE"Campaign, Billboards have been printed with educational messages and located in easily visible positions," Dr Patel said.
He said Asian Business Community in coordination with Blantyre District Health Office (DHO) identified possible locations to establish isolation, quarantine and treatment facilities in Blantyre and Zomba and they have managed to facilitate the use of an ambulance for Blantyre DHO for their testing and response.
The Chairman further hails President Peter Mutharika for appointing ABC into Presidential Taskforce for COVID-19.
"We thank President Proffessor Peter Muthalika for appointing ABC into the presidential Taskforce for COVID-19,"
"We express our gratitude to the president for entrusting us to contribute our knowledge and expertise towards the national agenda," he said.
According to Dr Patel , ABC is also working side by side with the Ministry of Health adding on Blantyre DHO.
"We thank them for their accessibility, time and understanding during the most trying circumstances. The only way to limit the impact is to work together, and ABC intends to provide all support possible," he said.
Blantyre District Health Officer (DHO), Dr Gift Kawalazila who was also the Guest of Honour expressed his gratitude for the support the Asian Business Community is lendering to its office.
"We thank the Asian Business Community for the support. They gave us two ambulances, drivers and they fill oil in these two ambulances. ABC is doing a lot and they provide food for our staff who are working at Kameza isolation site. ABC also donated over 300 cover wears to our health workers".
The DHO said it is disheartening to see politicians holding political rallies without following precaution measures.
"As Blantyre DHO, we are on three agenda campaign; To ensure health workers are protected, community engagement and reach out program. On this we want to sensitize the rural people on how they can prevent COVID-19 and the last one is stakeholder engagement . This is on individual and we are advising that everyone must take part in the fight to combat the pandemic as what ABC is doing. We urge other stake holders to help in the fight against COVID-19," he said.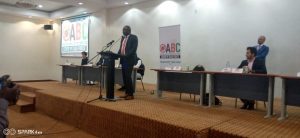 On the update about the people who have been tested positive for COVID-19 in Blantyre, the DHO said the district has confirmed a total of 16 cases, 1 death ,5 recoveries and 10 under self-quarantine.
Asian Business Community (ABC) COVID-19 Taskforce was created on 26th March, 2020 in response to the global COVID-19 pandemic.
It comprises a diverse and complete representation of the Malawians Asian community from Blantyre, Limbe and Zomba.
The participating organisations are : Anjum Himayatul Islam zomba, Bochasanwasi, Akshar Purushottam Swaminarayan Temple Limbe, Bilal Trust, Blantyre Muslim Jamaat, Limbe Muslim Jamaat, Malawi Telegu Association, Pakistan Welfare Association, Shree Hindu Seva Mandal Blantyre, Sikh Association, Sri Lanka Association, and Asian Muslim Relief Aid.