Wednesday, 3rd May, 2023, Malawi President, Dr. Lazarus Chakwera has left the country for the United Kingdom (UK) to attend the coronation of King Charles , the Third and The Queen Consort , Camilla.
"I have left for the United Kingdom to attend the coronation of His Majesty King Charles III and The Queen Consort slated for this coming Saturday at Westminster Abbey," Chakwera wrote on his Facebook page.
He adds," As a Commonwealth member and long time-bilateral ally of the UK, Malawi joins the British people as they celebrate this longstanding tradition and symbolic ritual around their monarch."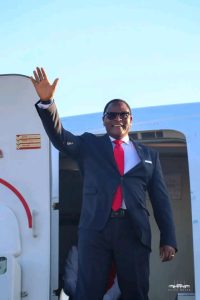 The president says he will take opportunity to hold a number of bilateral talks with some of the global leaders who are also heading to London for the purpose.
Buckingham Palace announced that following the death of Queen Elizabeth II last year, the Coronation of His Majesty The King will take place on Saturday 6th May, 2023 and will be conducted by the Archbishop of Canterbury.
According to the Palace,the Ceremony will see His Majesty King Charles III crowned alongside The Queen Consort.
"The Coronation will reflect the monarch's role today and look towards the future, while being rooted in longstanding traditions and pageantry," reads a statement issued by the Palace.