Minister of Energy, Honorable Ibrahim Matola has warned Malawians against vandalizing Electricity Supply Corporation of Malawi (ESCOM) property.
The Minister issued the warning Sunday, 5th March, 2023 at Dzalanyama Forest Reserve in Lilongwe where some people have cut down eight wooden poles, stole six pans of aluminium conductor and line accessories belonging to the statutory corporation.
Addressing journalists after visiting the forest reserve, the Minister said the malpractice is derailing the development of the country.
"This vandalism, we call it economic sabotage and those who are doing this should face the long arm of the law," Matola said.
The Energy Minister said there is a need to conduct an intensive research and establish the sources and depth of the malpractices.
"I do recall in 2012 to 2013, people were also vandalising ESCOM property especially draining the oil from the transformers. We conducted a research on the incidents to expose people who were involved. Sadly , we found out that it ESCOM officials were the ones involved in all these tragic practices," Matola said.
The Minister said it is sad that the incidents are now resurfacing in Malawi.
"Meanwhile, Malawians are breaking transformers inorder to get the copper inside the transformers, the stay wire, the insulators and cutting down the pole lines among others," he said.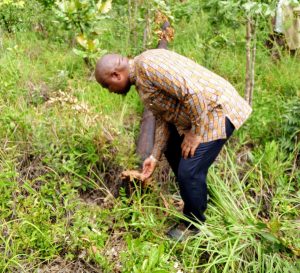 Matola says the malpractice costs the government a lot of money to fix or replace the stolen items which is worrisome.
"The government spends a lot of money to fix or replace these stolen ESCOM materials. These are the funds that could/can be used to finance other important sectors such as health, education and agriculture," Matola said.
According to the Minister, Malawians must development a spirit of patriotism. He advised the citizenry to guard ESCOM property jealously because energy is the economy's major and significant ingredient.
Yesterday, 4th March, 2023, a 26-year-old man identified as Nevas Chimphanje of Sinyala Village, Traditional Authority Masumbankhunda in Lilongwe District was arrested for cutting down five Electricity Supply Corporation of Malawi (ESCOM) poles and theft of 1500 metres of conductor wires all valued at K9,750,000 at the forest reserve.
According to a report issued by Lilongwe police station, the man was caught by Katete Forest Rangers who were patrolling around Dzalanyama Forest Reserve.
"They found the suspect cutting down the poles using an axe, five had already been taken down by this time," a police report reads.
A report adds that investigations are underway to trace and recover the conductor wires. Chimphaje will appear in court soon to answer applicable charges.
Officials from ESCOM , Department of Forestry Malawi and Malawi Police Services accompanied Honorable Ibrahim Matola to Dzalanyama Forest Reserve.