The Electricity Supply Corporation of Malawi (ESCOM) has launched another new Demand Side Management (DSM) energy efficient lighting – the Advanced Efficient Lighting Led Tubes to reduce electricity consumption and minimize the levels of loadshedding in the country among others.
The launching ceremony that kick-started the first of a series of nationwide meetings for ESCOM's Industrial and commercial customers was presided over by Minister of Energy, Honorable Ibrahim Matola yesterday, 7th February,2023 at Sunbird Mount Soche Hotel in the commercial city of Blantyre.
In his remarks, Matola said as Malawi's population increases, so does the demand for energy hence the need to introduce the DSM initiatives such as the Advanced Efficient Led Tubes.
"That means we need to figure out how to save whatever little energy we have while also trying to invest in the establishment of more plants,"
"Through the retrofitting of fluorescent tubes with more energy efficient LED tubes, the LED project aims to reduce commercial and public lighting power demand by over 9.3 Megawatts (MW)," Matola said.
Seconding Honorable Matola today during an interactive meeting with ESCOM's Industrial and commercial customers at Sunbird Capital Hotel in Malawi's capital, Lilongwe, Mr. McVittie Chiphwanya, ESCOM Regional Manager – Centre asked Malawians to embrace the new energy to serve energy.
"Malawians should embrace the new technology as it is also in line with Malawi's 2018 Energy Policy, which recognizes Demand Side Management as a priority area for Malawi's energy sector," he said.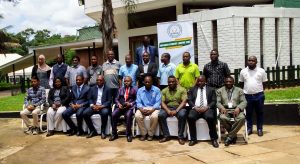 ESCOM Senior Manager for Commercial and Customer Services, Mr. Wiseman Kabwazi said the led tubes have other advantages such as maintenance free for 15 years, high quality of light and no fire hazards.
"Demand Side Management (DSM) program has created 55 megawatts savings so far at a cost of MK 15 Billion," Kabwazi said.
Today's interactive meeting in Lilongwe brought together several customers of ESCOM such as Salima Sugar Company, Sunbird Tourism plc, Alliance One and Illovo Sugar (Malawi) plc.
Over the past few years, the Ministry of Energy, through ESCOM, has implemented a number of Demand Side Management initiatives, including the rollout of energy-efficient bulbs using CFL and LEDs, tariff incentives for industrial customers via time-of-use tariffs, power factor purchases for industrial customers, and public awareness campaigns.