The Electricity Supply Cooperation of Malawi (ESCOM) says the coming of five step down transformers from Japan will improve electricity supply to its customers in Malawi's capital, Lilongwe.
ESCOM has bought the transformers using a grant which the Government of Malawi obtained through Japan International Cooperation Agency (JICA) on behalf of ESCOM.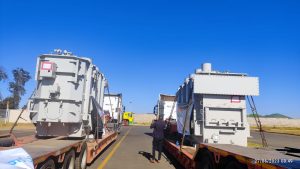 Speaking to Malawi Muslim Agency today at Dedza Boarder during the offloading of the transformers, ESCOM Regional Manager for the central region, George Matukuta said the transformers will improve and upgrade substations of Kanengo and old town in the capital city.
"The coming of these transformers is very important for improvement of electricity supply to our customers in Lilongwe. These transformers will actually improve access of electricity to more customers. And also, these transformers will actually strengthen the up stream for us to be able to connect to more customers as possible," said Matukuta.
According to Matukuta, the transformers are very big. He says the one that will be installed at Kanengo is rated at 50 Mega Volt-Amperes (MVAs) and it will be able to transform power from 132 Kilovolts to 66 Kilovolts.
"Downstream of the two transformers are rated 25 MVA and these will transform power from 66 to 33 thousands volts for a big distance areas, the other one is 25 MVA but it will transform from 66 to 11 to supply locally within Kanengo and sorounding areas," he said.
Mtukuka added that :"The other two will be installed at area 3 we have got a power station at area 3 and they are both 25 KVA one will transform from 66 to 33 thousands volts and the other one will be from 66 to 11 KVA for sorounding areas."
Malawi Government is committed to completely end loadshedding in the country. Since the restoration to full capacity of Kapichira Hydo Power Plant, power generation has improved.