Mr.Ibrahim Chilopola who spent over three years at Maula prison in Lilongwe says he is determined and passionate to empower Muslim inmates in central region of the country.
Speaking in an exclusive interview with Muslim Media Agency, Mr.Chilopola says the years he spent at the prison made him realise the essence of instilling hope and empower Muslim inmates and those who have just finished serving their jail terms.
"Right after leaving Maula Prison, I realised that there is a need to form an organization to help Muslim inmates in prisons and those that have just finished serving their jail terms. People in prisons meet a lot of things and I experienced what it means to be a prisoner," he told Muslim Media Agency.
Chilopola says he formed Minali Sijini Foundation together with his friend Mr. AbdulRahman Chisonga strictly to serve the priorities of Muslim inmates.
"We conduct Daw'ah in prisons to our fellow Muslim brothers and we also help our Muslim brothers who have just left the prisons to cope up with life. In prisons, people change and as a foundation , we help the government to make sure that the change must be maintained by following Islamic teachings, " he says.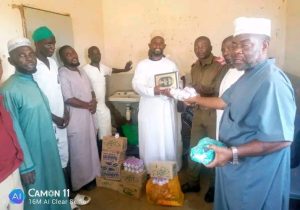 According to Chilopola, there are a lot of well-mannered Muslims in prisons who observe five daily prayers , read and understand the Holy Qur'an and follow the teachings of Prophet Muhammad (SAW).
"We established Madrassah in almost all prisons in the central region to teach our fellow brothers about Islam. Most of them, after leaving the prisons, they become devoted Muslims and some become Muslim clerics (sheikhs) ," the foundation's Chairman told Muslim Media Agency.
He says during the Holy Month of Ramadan, the foundation supplies Iftar and Suhr to Muslim inmates at Maula prison but plans are underway to reach out to other prisons (central region) depending on the availability of resources.
The founder of Minali Sijini Foundation says plans are underway to establish a place for vocational trainings to empower Muslims who have just finished serving their jail terms.
"So far, we are working with Twenty Six (26) former prisoners and they are good ambassadors of Islam in their respective communities. We need to empower them so that they should never think of committing any crime again by empowering them with vocational trainings such as tailoring, welding and plumbing," Chilopola says.
Meanwhile, Minali Sijini Foundation has over 10 dedicated members. These members work diligently to serve Muslims in the country especially in prisons.
According to statistics,Maula Prison has over 230 Muslim inmates. Multiple research findings show that most people
in the country go against the constitution of the country because of poverty, illiteracy and peer pressure.