Two students namely Jamila Jafar and Clara Saidi have become first Muslim girls from Malawi to graduate from one of the top Africa's Institutions of higher learning , Cairo University in Egypt.
Jamila Jafar has graduated with Bachelor of Accounting while Clara Saidi has graduated with Bachelor of Business Administration in August, 2020 at the 7th best University in Africa, according to Times Higher Education Ranking of 2020 released in September last year.
Malawi Muslim Website caught up with the two to understand their academic journey in the foreign country.
"My name is Jamila Jafar, born in 1993 and I come from Mulanje distrtct. Having Zomba as my home district. I am proud to be one of the Cairo University graduates in Bachelor of Accounting, class of 2020,"
"My journey to success started from primary school at Mulanje Girls Islamic Center, Assalam Girls Secondary, and then Cairo University," she told Malawi Muslim Website.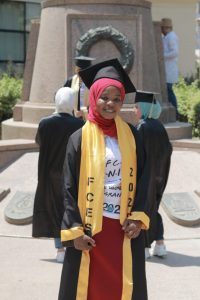 Jafar commended diverse culture at Cairo University and how she feels being one of first two Muslim girls to graduate from the University.
"Cairo University is amazing. we learnt many things; I have benefited a lot with friends from other countries. Despite the benefits, living in a foreign country as a student has not been easy; there have been lots of challenges and setbacks on the way, but Alhamdulillah, I have managed to get what I wanted, "
"I feel so good to be one of the first two hijabees to graduate at Cairo University, and I believe through my paper, I will be able to contribute to the development of Malawi, particularly in making business decisions," she says.
Jamila Jafar advices her fellow Muslims especially hijabees that they should first of all fear Allah (God) and make sincere intention before taking their first step towards the journey to success.
"They should work hard in both studies and prayers so they can achieve their goals. And finally, putting on a Hijab should not just be a fashion, fun or a dressing competition, but it should always symbolize their faith, taqwa and devoutness. By doing so, blessings from the Almighty Allah shall encompass their success, and together we can make a change," she told Malawi Muslim Website.
Clara Saidi says she is also happy to graduate with Bachelor of Business administration at the Cairo University.
Saidi told Malawi Muslim Website that she was born in kasungu district in 1995 and did her primary school at ST Denis in Rumphi, her secondary school at Dedza Girls Islamic Secondary School and later got a scholarship to study at Cairo university.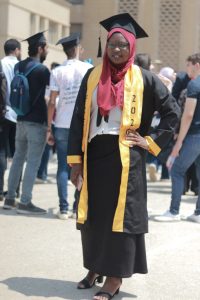 Said told Malawi Muslim Website that her program, Business Administration is about administering business which includes supervising and monitoring business operations through good managing, planning, leading and controlling.
"Business Administration covers many fields like sales, marketing, human resource, accounting and project management to achieve the organizations goals,"
"It took 4 years to persue a Degree in Business Administration.
I have learned a lot in Egypt from educational to personal life that have added a big value in my value in my life," she says.
Saidi says as one of the first two Muslim girls from Malawi to graduate from the University, she is very proud of the achievement and promise to take part in developing the country.
"It was not easy journey but God made it easy for me. I will put out all I have learned here to develop my country Malawi to benefit from what I got here," she says.
Saidi advices fellow Muslim girls out there to be proud of being Muslims put Allah first in what ever they do, practice Islam and focus on their goals nothing comes easy but through hard working.
A total of seven students from Malawi have graduated from Egypt. Four students have graduated from Cairo University while three have graduated from Al Azhar University.
The students go to Egypt under the bilateral agreement between the Government of Malawi and Government of Egypt. Others are also supported by Islamic organisation to uplift Islam in the country.