On Thursday, Muslims joined other thousands of Malawians who went into streets to demonstrate against the outcome of the May 21 tripartite elections and demanding the resignation of Malawi Electoral Commission chairperson Jane Ansah.
The Muslims carried banners with the message "Jane Ansah why do you hate Muslims?" and "Kukhala Msilamu Sichifukwa (being a Muslim is not a crime)".
These came amid allegations made by the ex-vice president Dr Saulos Chilima who is also United Transformation Movement (UTM) against Jane Ansah early this month.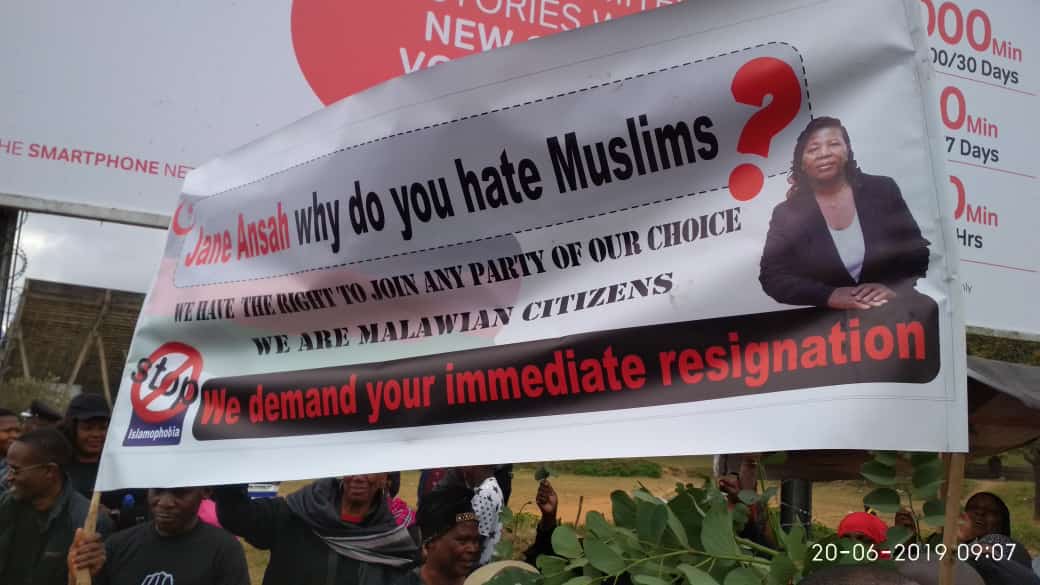 In a letter, which was written on 7 June 2019, Chilima alleges that the MEC chairperson told her members of staff that "she would be grateful if they helped ensure that Professor Muthalika gets re-elected," saying she did not want Rev. Dr Lazarus Chakwera to be elected because his running mate (Sidik Mia) "is a devoted Muslim."
This angered not only Muslims, but non Muslims too in the country who said Malawi is for everyone and no one should be stopped from contesting any public office because of his or her religious afilliations.
Although the demonstrations were held by CSOs, many politicians especially from the opposition parties also joined the protests. Among them is MCP's leader Dr. Lazarus Chakwera and UTM president Saulos Chilima.