Malawian Muslim medical students pursuing Bachelor of Medicine and Bachelor of Surgery (MBChB) and Bachelor of Nursing Sciences at Islamic University in Uganda (IUIU)-Habib Medical School at Kampala campus represented Malawi at the 18th International Federation of Islamic Medical Associations (FIMA) students camp from 3rd to 9th January, 2020 held at IUIU Females campus in Kabojja.
The event was organized by Islamic Medical Association of Uganda (IMAU) in conjunction with FIMA under the theme Muslim Health Professionals in the Globalization Era."
Names of students who represented Malawi were as follows: Hussein Kosombe (MBChB),Mustapha Issah (MBChB), Jumah Willey (MBChB),Aubrey Banda (MBChB,
Mumtaz Kwanza Bwanali (MBChB), Abubakar George Kachingwe (MBChB), Raffick Saidi (MBChB), Salamah AbdulRahaman (Bachelors in Nursing Scuences),Fareedah Ibrahim (Bachelors in Nursing Sciences ), Zainab Shuckran (Bachelors in Nursing Sciences), Zaida Mapata (Bachelors in Nursing Sciences).
Another Malawian student , Ahmad Dickson who is currently studying Bachelor of Medicine and Bachelor of Surgery at Sulaiman Alrajhi University in Saudi Arabia also joined the Malawi team.
The camp was sponsored by the Islamic Medical Association of the Kingdom of Saudi Arabia (IMAKSA)
According to the leader of the students Mustafa Issah, the students are affiliated to FIMA under Malawi Islamic Medical Association (MIMA)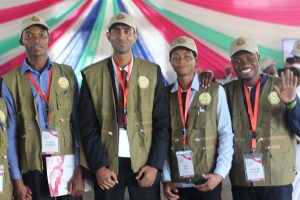 On the first day of the camp, Professor Magid Kagimu, PHD, FRCP, Professor of Internal Medicine at Makerere University urged the medical students to be God fearing, always.
Professor Kagimu who is also the President of Islamic Medical Association of Uganda said the students as future medical workers, they will supposed to serve patients for the sake of God.
"Your goal is to serve Allah by providing quality health care services to His people which integrate Gods guidance and religiosity in the process. The components of quality religiosity and quality health care are the same," he said.
Professor Kagimu told the students that the secret in the care of the patient is caring for the Mind, Body and Soul (MBS) of the patient, using an Islamic spirit, Allahs spirit, which is recognised by tireless efforts, where one cares with patience and perseverance without getting tired.
"It is important to care for the MBS of the patient with the disease than care for the disease the patient has. The care for the disease is largely impersonal, but the care for the patient is entirely personal depending on your Islamic spirit," he said.
The students were trained by world class specialist doctors such as neurosurgeon, cardiologist, and ophthalmologist from Saudi Arabia and Pakistan.
Hussein Kosombe is one of the Malawi medical students who attended the camp.
According to Kosombe, the camp helped the students to understand the dynamics medicine.
"It was our opportunity to learn from the world class specialist doctors. We learnt the skills that can help us change Malawi's health sphere because we were tipped on how to make health sector robust," he said.
However, Kosombe said Malawi is still lacking behind in terms of technology that can support health services.
"We saw that in developed countries such as Saudi Arabia, provision of health service is technology aided. It is different to Malawi because we are still lacking behind in using technology in our hospitals,"
"We saw that in Saudi Arabia doctors can help patients while home through computer. We also learnt that in developing countries patients data is no longer recorded manually but electronically. They are advanced and it is our wish for Malawi to reach that far,"he said.
All Medical students who attended the camp presented on the contributions of Muslims in health sectors in their respective countries.
A third year student of Bachelor of Medicine and Bachelor of Surgery, Mustafa Issah said Muslims in Malawi are contributing less in health sector but capabilities are high that they can become influential in the sector.
"As of now in Malawi, we dont have an outstanding Muslim hospital compared to other religious groupings. We can turn things around because Malawi Muslims have a capability to do so. We can come together as a Muslim community and build such health facilities,"he said.
Issah said through collective efforts, Muslims are capable to have Islamic health colleges such as Christian Health Association of Malawi (CHAM)
The students asked well-wishers to invest in the health sector so that Muslims should have a big slot in the sector.
Due to their active participation, the students were awarded with a certificate.
The students also appreciated how Muslims in Uganda are contributing in the health sector. They joined other medical students to tour Saidina Abubakar Islamic Hospital in Wakiso district few kilometers from Ugandas capital, Kampala run by Islamic Medical Association of Uganda (IMAU).
The students also visited Muammar Gadaffi National Mosque after visiting various places of scenic beauty such as Uganda Museum in Kampala and Uganda Wildlife Conservation Centre, Uganda Botanical Gardens and Lake Victoria in old capital of the pearl of Africa, Entebbe.
The camp brought together Muslim medical students from several countries such as Nepal, Bangladesh, Malawi, Tanzania, Uganda, Kenya, Indonesia, Burma, Saudi Arabia and Turkey.