Malawi Students pursuing medical programs at the Islamic University in Uganda (IUIU) – Habib Medical School based at Kampala Campus have donated various items to a Muslim Cleric (Sheikh) in Malawi's capital, Lillongwe.
The students under their umbrella body called Malawi Medical Students Association – Habib Medical School bailed out Sheikh AbdulRahman Edward and his Wife Hajra Ali of Kaphiri Area 38 Mosque in the Capital City.
The Chairperson of the association Mustapha Issah who is pursuing Bachelor of Medicine and Bachelor of Surgery (MBchB) told Malawi Muslim Website that the family had spent four months without being paid due to COVID-19 pandemic that made them to intervene.
"We donated 250 kilograms of maize, 1 bundle of sugar, soap, meat, rice and juice among others,"
"What made us help the Sheikh and his wife was that we were touched after learning that the Sheikh was not paid for 4 months but he is a tenant. He has 4 children and he has 2 more children which he is just wilfully taking care of," Issah told Malawi Muslim Website.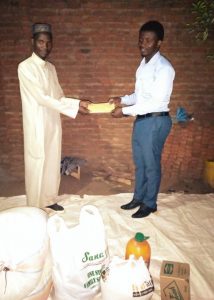 Issah says the students gave the Sheikh some funds to cover his rentals for the previous four months.
"We have paid them in full," Issah says.
He says the situation for the Sheikh was critical.
"The situation for the Sheikh and his wife was critical so we decided to help and by the grace of Allah , the program was successful," he says.
Sheikh AbdulRahman hailed the students for the donation and urged them to continue supporting people.
The students conducted the program with the financial support from the Turkish well-wishers.