Malawi's Minister of Energy, Ibrahim Matola has challenged African countries to prioritize local solutions when solving challenges hitting the continent's energy sector.
Matola made the remarks today, 26th April, 2023 at the 9th Edition of Mozambique Mining and Energy Conference and Exhibition underway at Joaquim Chisano International Conference Centre in Mozambique's Capital, Maputo.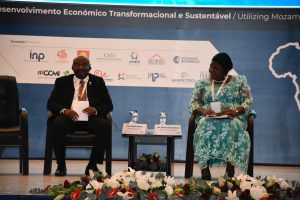 Making his submissions during a high level roundtable discussion, the energy minister recognised Electricity Generation Company (EGENCO) for bringing back Kapichira, highlighting that the development demonstrates that African countries can use local engineers to solve energy challenges facing their countries.
Matola urged African countries to share skills and ideas to create effective policies that can improve Africa's energy sector.
He said : "Such collaborative efforts are necessary since common problems cannot be resolved independently without proper cooperation among African countries."
Mozambique's Minister of Mineral Resources and Energy, Carlos J. Zacarias, concurred with Matola, saying the regional integration is a key towards solving energy challenges that the Southern African region is facing.
Zacarias said the interconnector project between Mozambique and Malawi is one way how the countries in the region can work together.
Malawi's Minister of Mining, Monica Chayang'anamuno is also attending the conference.
The conference which is ending tomorrow, 27th April, 2023, provides a unique opportunity for networking among all stakeholders and offers insights into the vast opportunities available in these important sectors of the economy.