Malawi president , Dr. Lazarus Chakwera says the country is ready to accommodate investors despite the economic effects caused by COVID-19, Russian-Ukraine war and Tropical Cyclone Freddy.
Chakwera made the remarks today at Malawi Investment Summit 2023 underway at the Bingu International Convention Centre (BICC) in Lilongwe.
"We have gathered today in Lilongwe for this year's Malawi Investment Summit to reiterate our stance that Malawi is open for business despite shocks transmitted by Covid-19, the war in Eastern Europe and most recently Cyclone Freddy," Chakwera wrote on his Facebook page.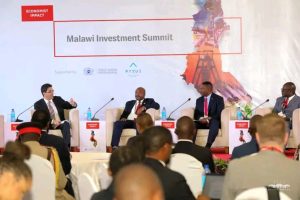 He adds : " Convened under the theme "Addressing Barriers, Unlocking Opportunities", the summit accords a chance to potential investors to appreciate the value that our market can bring to their aspirations. So too with existing investors, this is the time to expand their footprint through recapitalization or new ventures.
I have underlined to the summit the available investment opportunities in all priority sectors: Agriculture, Tourism and Mining, referred to as our ATM Strategy."
Chakwera says to boost productivity in these three sectors, Malawi has been reviewing the policy, legislative, and administrative framework to create a favourable environment for our development agenda.
"It is for this reason that our embassy in South Africa is convening the two-day Malawi Investment Forum in Johannesburg from tomorrow," he says.
According to Malawi president, these deliberate engagement platforms will help Malawi grow the private sector and facilitate creation of sustainable jobs for the people and transformation of household livelihoods.