Malawian-British property tycoon Asif Aziz has finally won a years-long battle to build a mosque and an Islamic centre in London's famed Trocadero building, according to reports.
The three-storey prayer room and Islamic centre, which will be named the "Piccadilly Prayer Space", will reportedly have a capacity of 390 worshippers, The Mail on Sunday reported.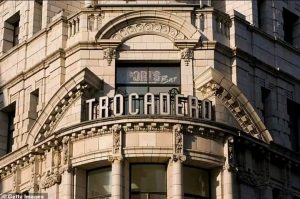 The iconic building is located between Piccadilly Circus and Soho, one of the key entertainment and leisure locations in the British capital. It has hosted restaurants, exhibition spaces and even the unsuccessful SegaWorld London entertainment complex.
The Trocadero features an impressive interior, with Arthurian murals, and an imposing baroque facade, although the site has remained dormant since 2011.
Asif Aziz made plans in 2020 to convert the building into a 1,000-capacity mosque but was forced to withdraw the bid following complaints from residents.
Now the property tycoon has new plans for a mosque at the site which is again attracting the attention of far-right figures including Britain First leader Paul Golding.
The billionaire property developer obtained planning permission to convert parts of the famous complex in May this year, a Westminster Council spokesperson to the British tabloid on Sunday.