A Malawian student, Abdulmajeed Allan Chikukula who has recently graduated from Cairo University says African youths are the engines for the development of the continent through Pan-Africanism.
Speaking during the 2020 graduation ceremony for members of the African League of Young Masters (ALYM) in Cairo, Egypt, Chikukula who is also the 2019/2020 Coordinator of the grouping (ALYM) says Africa is not united because Africans are not networking and that is why ALYM among others encourages coherence of African students including those from Malawi studying in various universities in Egypt.
According to Chikukula, Africa has gone through different developmental phases and most of them have not yielded much and it is high time philosophies as the one championed by ALYM were recognized and appreciated.
"At ALYM, we strongly believe that educated, connected, motivated and empowered youth can possess the magic wand to turn our continent into the Africa we want and indeed deserve. You can be assured of that by just looking at the faces of the Youth gathered here in this room,"
"At ALYM, we also believe that 21st Century Leadership is about Innovative minds. It is important to create innovative economies for the good of the African People and it is equally imperative to disseminate a message of hope to all humanity," he said.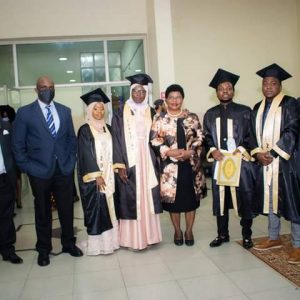 Chikukula who has graduated was studying Bachelor of Science in Agriculture (Organic Farming ) said Africa is highly endowed with resources be it natural and human.
"We need to safeguard them: it is everyone's responsibility to ensure protection of our resources. I have a strong belief that ALYM Graduates are going to have a different perception of the world: looking at things with an Entrepreneurial approach. I believe that the prudent approach towards Entrepreneurship is about seeking new opportunities, capturing them and creating an added value out of such opportunities,"
"Whilst studying here in Egypt, we have interacted with people from different countries and we had the opportunity to appreciate how unique we all are. Through our networking, we were able to create ingenuity and become a Hybrid Think-tank. I came here as a Malawian but I will go back as an African because ALYM transformed my mindset. I have made acquaintances with fellow Africans from all over the continent it was a great honor to lead these amazing Young Leaders who are eager for a better Africa," he said.
Chikukula encouraged other African graduating students to implement the knowledge acquired from various universities in Egypt.
"A word to my fellow graduating students; the knowledge we have gained and all the ideas we have shared throughout the four years spent together will be worthless if we don't implement them,"
"To create value is to think outside the box. We need to go into the communities and identify the needs of the common people. In so doing, we will stand a better chance to craft solutions that will make our communities better places to live in. As we help others change their lives, ours will change too," Chikukula said.
A total of seven students from Malawi have graduated from Egypt in 2020. Four students have graduated from Cairo University while three have graduated from Al Azhar University.