Ace Holdings, through its Managing Director, McDonald Chisale, who is a postgraduate alumnus of the Malawi University of Science and Technology (MUST), on May 9, 2023 donated ceramics equipment to the institution worth millions of kwacha.
Receiving the items, MUST Director of Research and Outreach Professor Alfred Maluwa commended Chisale for the kind gesture and urged other alumni and well-wishers to emulate the gesture.
Professor Maluwa said the equipment will help students and unemployed Malawians to get practical skills in ceramics production. The university runs ceramics production both for studies and business.
"We have a ceramics studio here at MUST where we make several ceramics products such as kitchen ware or household items, including tiles. With funding from the African Development Bank, we bought heavy duty ceramics equipment but we needed smaller ones for students' practices. As beginners, our students needed lab size equipment for their practical skills before using the commercial machines," he said.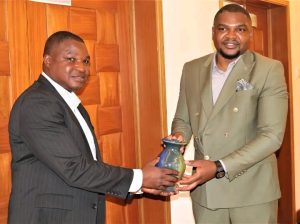 Apart from training students, the ceramic studio also drills unemployed Malawian youths who establish their own companies after the training.
"Already, there are four companies in Malawi formed out of our previous trainings. These unemployed youths undergo an intensive six months training on the whole process of ceramics production.
They specialise in different products such as teapots, saucers, plates and tiles while some combine all of them and so far, 124 youths have benefitted from the programme. Some of these youths are selling their products at Lilongwe market and Dzaleka in Dowa," he said, adding that some of the donated equipment can also be used in the biological laboratory.
In his remarks, Chisale, who studied Master of Science (MSc) in Entrepreneurship at MUST, hoped the equipment will help the university to produce graduates that can later go into entrepreneurship to help in government's initiative of import substitution.
"We are importing a lot of ceramic products and I believe with the equipment in place, we will be able to impart practical skills to our students and other youths. The idea is to equip these youths to go into ceramic production. This is in line with MUST's vision of becoming a world class centre of science and technology education, research and entrepreneurship. Let me urge fellow alumni to support the university so that it can continue facilitating the economic growth of Malawi and beyond," Chisale said.
The donated equipment includes top load kilns, electric potters' wheels, pulverisers, and handle extruders