The Muslim Association of Malawi (MAM) has been invited to speak at the International Pan African Spiritual Leaders hosted by the Pan -African Council under the State of the African Affairs.
According to a letter seen by Malawi Muslim Website, MAM Spokesperson Sheikh Dinala Chabulika will represent the religious group in the webinar on Saturday, 5th September, 2020 under the theme " Peace and Religion."
Speaking in an interview with Malawi Muslim Website Sheikh Chabulika says the invitation shows how committed MAM is in resolving conflicts and it is a milestone for Muslims and the entire nation.
"It means MAM's contribution towards peace is beyond boundaries and a very good example is what has happened recently on the two incidents happened concurrently. Leaders need to have skills on how to manage conflicts," he says.
Recently, MAM managed to resolve the issue in which the Blantyre City Council (BCC) removed a billboard erected by Islamic Information Bureau (IIB) aimed at promoting the Holy Qur'an.
MAM engaged the Evangelical Association of Malawi (EAM ) and Public Affairs Committee (PAC) that saw BCC restoring the billboard.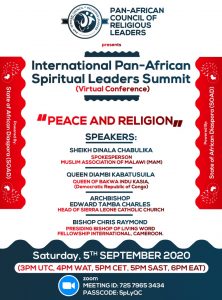 MAM also handled the issue at Namadzi mosque in Zomba district where Muslims removed a signpost belonging to a church near a mosque. MAM advised Muslims to stop the malpractice as it would seen as revenging the billboard incident.
The online virtual conference will bring religious leaders within Africa and overseas.
"The program is to bring religious leaders and stakeholders of religious activities within and and outside the continent unto one platform and infuse the message of peace among brethren," reads a letter.
From Africa, Sheikh Dinala Chabulika will join other speakers namely Queen Dambi Kabatusuila, Queen of Bakwa Indu, Kasia in Democratic Republic of Congo, ArchBishop Edward Tamba Charles , Head of Sierra Leone Catholic Church and Bishop Chris Raymond , Presiding Bishop of Living Word Fellowship International in Cameroon.